Trainers & Assessors 5 Day
Are you responsible for training others safe moving and handling in your role? Are you responsible for carrying out risk assessments and handling plans?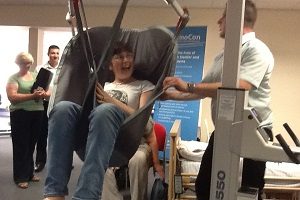 Do you need to plan training courses and deliver your training to a variety of different people?
The 5 Day Trainers and Assessors course will give you the knowledge and confidence to perform your role as manual handling trainer and assessor.
Target Group
Nurses, Physiotherapists, Occupational Therapists and others who have responsibility for carrying out manual handling risk assessments and training.
Presenter
Elizabeth Hallows Chartered Physiotherapist MCSP LPC (Back Care Management)
Venue
Disabled Living, Burrows House, 10 Priestley Road, Worsley M28 2LY
Prices and Booking
Cost: £650 + VAT (lunch & refreshments provided)
If you require more information please email training@disabledliving.co.uk
The course runs over 5 days, please see dates below:
12th, 19th, 26th September, 4th, 11th October 2018
5th, 9th, 12th, 16th, 23rd November 2018
9th, 10th, 16th, 17th, 24th January 2019
5th, 6th, 12th, 13th, 21st March 2019
Cancellations
Disabled Living reserves the right to cancel/rearrange course dates. An alternative date or full refund would be offered. In the case of a delegate cancelling the following charges will be incurred:
28 days or less full cost
5 weeks 75% cost
6 weeks 50% cost
7 weeks 25% cost
8 weeks Full refund
To book your place on one the Trainers & Assessors 5 Day Courses, please complete the form below: