First Aid
Emergency First Aid at Work
Course Details
This course will enable you to deliver effective emergency treatment before professional help arrives. This course is the 1 day Level 3 Award in Emergency First Aid at Work (RQF) and complies with HSE requirements. Accredited by Qualsafe.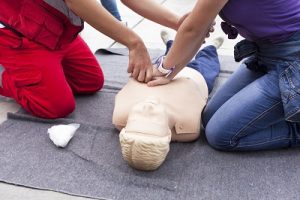 Objectives: 
Assessing the scene, getting help, prioritising treatment
Resuscitation (CPR), Practical AED training
Treating an Unconscious  person ( inc. Seizures)
Managing wounds and bleeding
Recognising Shock
Practical techniques to relieve Choking
Treating Minor Injuries
Preventing cross infection
Target Group: Anyone who may need to deliver First Aid at work.
Presenters: Alison Meadows RN ONC BA Hons PGCE and Pat Scott HND BA Hons PGCE
To book please contact the training team on 0161 607 8209 or email training@disabledliving.co.uk
Cancellations
Disabled Living reserves the right to cancel/rearrange course dates.
An alternative date or full refund would be offered.
In the case of a delegate cancelling the following charges will be incurred:
28 days or less full cost
5 weeks 75% cost
6 weeks 50% cost
7 weeks 25% cost
8 weeks Full refund