Putting the Care back in to Telecare – Day Two
Putting the Care back into Telecare – Supporting People Living with Dementia
Supporting People Living with Dementia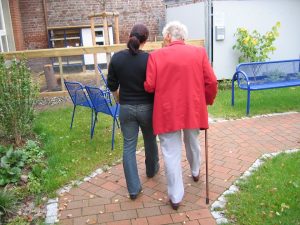 This one-day course offers a structured yet flexible approach to build advanced knowledge of the skills needed in the provision of Assistive Technology when delivering a service for a client living with Dementia.
Improving staff confidence and ensuring a person-centred approach is taken to the safety of the service user at all.
Explores in-depth the role of good communication skills in achieving a positive outcome for the service user and sustaining good relationships with other services.
This course looks further in to the wider concept of technology, pulling in the knowledge and experience already gained.
Delegates will be able to explain how one person's Dementia journey is very much an individual journey and describe how using relevant technology appropriately and at the right time, can support the management of risks and reduce the potential for harm for service users, carers and families. How it can improve quality of life and support them to live independently for longer. It will also give a chance to network and learn from peers working on case study based learning. Leaving with real examples and a tool box of information to use in every day assessments.
Presenter: Dawn Thornber PgCert / HND/ CGIA/ CIH Cert
Target Group: Suitable for organisations whose staff want to develop knowledge and enhance understanding of the essential skills needed to provide good quality services for individuals living with Dementia, and the importance of taking a person-centred approach at all times. It will broaden the capability of assessing and prescribing Assistive Technology.
Cost: £750 plus VAT for up to 12 delegates.
How to book:
Contact the training team on 0161-607-8200 or email training@disabledliving.co.uk
Terms and conditions
Please view the Disabled Living terms and conditions document for our training courses.