Technology Enabled Care
This range of training packages has been designed to support good quality service delivery under the TSA Quality Standards Framework.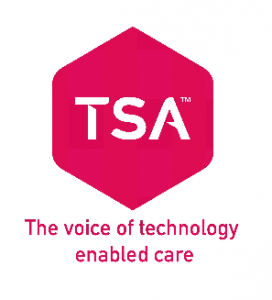 Each training session aims to develop skills, knowledge and understanding, build expertise and raise awareness for how Technology Enabled Care can support the delivery of integrated services to enable health and well being and maintain independent living for service user and customers.
Benefits to the delegate
Begin your journey to support learning and education for Telecare Enabled Care (TEC) specific roles
Build and enhance confidence that activities are carried out safely and in accordance with recognised industry standards
Learn how TEC and your role supports the provision of integrated care
Bring theory to life through customer experiences and go on a journey through a customer's needs
Take away examples of best practise to support delivery
Explore how your role helps to prevent the risk of serious harm from fire
Benefits to the organisation
Offers an opportunity to embed consistent practise within staff teams
Provides recognition of skills and knowledge within roles
Establishes a foundation for ongoing learning
Builds trust and confidence in delivery methods with customers
Enhances reputation for good quality service provision
Supports understanding of requirements of BS8591 & BS5839-6 and compliance with FAMO Connection Agreement
Continuous Professional Development (CPD) Certification.
Establishes a foundation from which learners can continue to build knowledge and enhance skills to develop a career pathway.
Terms and conditions
Please view the Disabled Living terms and conditions document for our training courses.