Emergency First Aid at Work
Bespoke for Your Organisation
This Emergency First Aid at Work course will enable you to deliver effective emergency treatment before professional help arrives
Level 3 Emergency First Aid at Work RQF
The one day (6 hour) course covers the HSE approved syllabus
For further information contact the training team on 0161 214 4590 or email training@disabledliving.co.uk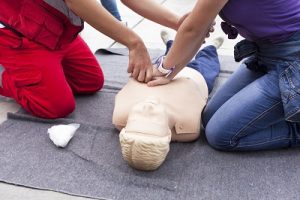 At the end of the programme students will be able to understand the role of the first-aider, including reference to:
the importance of preventing cross infection;
administer cardiopulmonary resuscitation;
the need for recording incidents and actions;
administer first aid to a casualty who is choking;
use of available equipment;
administer first aid to a casualty who is wounded and bleeding;
assess the situation and circumstances in order to act safely, promptly and effectively in an emergency;
administer first aid to a casualty who is unconscious (including seizure);
provide appropriate first aid for minor injuries (including small cuts, grazes and bruises, minor burns and scalds, small splinters).
administer first aid to a casualty who is suffering from shock;
Automated External Defibrillator (AED) practical demonstrations and activities on a training AED are now included on this course.
This syllabus is set by the HSE. If you require additions to the syllabus these can be added on to the delivery time.
For example if you have a colleague who is diabetic it would be worthwhile adding this to the course so that the First Aiders know how to deal with a diabetic emergency.
Your questions answered
Q Is there an exam?
A Yes there is a short multiple choice test at the end of the day
Q What do I receive?
A Students will receive a first aid manual a certificate and wallet size ID card confirming their competence as an Emergency First Aider. Certificates are valid for 3 years
Presenters
Alison Meadows RN ONC BA Hons PGCE
Pat Scott HND BA Hons PGCE
Target group
People who are required to deliver first aid
Cost
£145 + VAT per delegate
This course is the 1 day Level 3 Award in Emergency First Aid at Work (RQF) and complies with HSE requirements. Accredited by Qualsafe Awards who are regulated by Ofqual
Terms and conditions
Please view the Disabled Living terms and conditions document for our training courses.