Moving and Handling Risk Assessment 3 day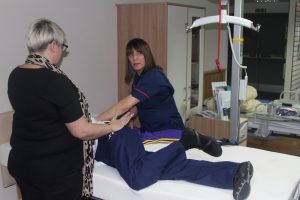 Moving and Handling Risk Assessment Training (3 day course)
This course looks at the theory and practice of manual handling risk assessment, with the aim of enabling delegates to carry out ergonomic manual handling risk assessments of people handling activities in their workplace.
By attending this Moving and Handling Risk Assessment course you will acquire skills and gain confidence with the techniques and equipment that can be used to reduce risk when assisting with mobility needs, be able to carry out these techniques and demonstrate to others.
Prices and Booking
Cost: £450 + VAT (lunch & refreshments provided)
If you require more information please email training@disabledliving.co.uk
Target Group
Health Care Professionals,
All Care Staff,
Healthcare Students,
Trusted Assessors,
Manual Handling staff,
Staff in Education,
Anyone with a responsibility for assessing risk or needs to understand and use a risk assessment.
Moving and Handling Risk Assessment Unit – Learning Outcomes
Moving and Handling Practical Skills Unit – Learning Outcomes
Presenter
Elizabeth Hallows Chartered Physiotherapist MCSP LPC (Back Care Management)
Venue
Redbank House, St Chads Street, Cheetham, Manchester, M8 8QA.
Cancellations
Disabled Living reserves the right to cancel/rearrange course dates. An alternative date or full refund would be offered. In the case of a delegate cancelling the following charges will be incurred:
28 days or less full cost
5 weeks 75% cost
6 weeks 50% cost
7 weeks 25% cost
8 weeks Full refund
Terms and conditions
Please view the Disabled Living terms and conditions document for our training courses.