Meet the Trustees
On this page you will find information about our Trustees at Disabled Living.
Kui Man Gerry Yeung OBE DL – President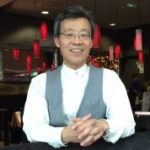 I have been a successful restaurateur for over 40 years with the famous Yang Sing group of restaurants, during which time I have also been involved in property development and, in recent years, in building education and trading links with China.
As well as running my own businesses, I have been actively involved in the commercial, educational, charitable and cultural life of the city of Manchester for many years. As a director of MIDAS, governor of Withington Girls' School and the University of Manchester, committee member of the Lord Mayor's Charity Appeal (now We Love Manchester) and the Prince's Trust, a trustee of MOSI and envoy of Manchester China Forum etc.
I have been proud to receive honorary doctorates from University of Salford, Manchester Metropolitan University and University of Bolton, the Medal of Honour by the University of Manchester and an OBE in the Queen's 2003 Birthday Honours List. I am also a Deputy Lieutenant of Greater Manchester and held the role of High Sheriff of Greater Manchester 2017-2018.
Twelve years ago, when I first became a trustee and President, Disabled Living was going through a transition period, as well as a difficult time financially. My task was to raise the profile and provide new connections. I had recently spent 12 months as President of Manchester Chamber and I felt I could offer some help and share my experiences. Having a restaurant is also very useful for the Annual Meeting!
I am delighted that our transformation has been successful. We are now the country's leading charitable and independent adviser on assistive technology. The Kidz to Adultz exhibitions have helped to bring financial stability to our organisation, as well as immeasurable service and support of which we can be justly proud.
Paula Brown – Chairperson

I have had a career in banking, spanning more than 30 years, of which 25 had been with the Co-operative Bank in a variety of roles with the Corporate and Business Banking Division.
My first encounter with Disabled Living was when I was a manager in the Business Banking team, developing new business in the small business and not for profit sector. I was able to maintain the relationship when I joined the Corporate Banking relationship team as a manager, and assisted in providing overdraft and loan facilities to see the charity through the transitional period when a new business plan was being devised. This was back in 2006.
Currently I work for First Ark who support sustainable business growth through Social Investment Funds.
I joined the Management Board in 2011 and took up the position of Treasurer in 2013 and appointed Chairperson in 2020. I was delighted to offer my services to the Board and consider my experience in finance and banking will support the development of Disabled Living's services.

Ged Cosgrove – Treasurer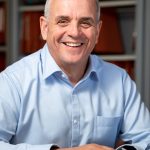 I joined Champion in 1985 and was appointed Partner after just one year. More than thirty years' on and I'm as passionate about the business as ever. As Managing Partner I am responsible for developing and delivering the Group strategy. Since joining the practice I have directed the transformation of Champion; moving the business forward from a compliance focused practice into a leading trusted business advisor for the SME market.
I strongly believe that 80% of the issues that SMEs face are the same, regardless of the sector they operate in. My experience growing Champion from just 9 people to team of over 100 with four offices across the North West means that I am well placed to understand these issues; as I've had to face the same problems and develop working solutions to create a successful business.
Aside from my day to day responsibilities working closely with the Champion team, one of my key responsibilities remains developing new business opportunities across all sectors and providing strategic business advice to our clients to help them grow their business.
My goal for our business remains the same, we are more than just a traditional accountancy practice; we are a trusted business advisor. Over my thirty years working at Champion I've also built up strong relationships with key business partners across the region; allowing me to help our clients with their wider business requirements.
Phil Downs MBE

When I first came out of hospital following an accident in 1976, after that blazing summer I soon discovered I needed stacks of equipment. I was visited by someone from the 'The Cripples Help Society' which, even back then, was quite a shock. Not long after I realised that this seemingly antiquated charity provided an amazing resource. The equipment centre was amazing and perfect for those who needed some kit but didn't know where to get it from! I couldn't believe so few people knew about it and the then manager of the equipment centre suggested I applied to become a trustee… I did, and I have!
It was around thirty years ago that I became a trustee and began the learning curve relating to weeks, months and years of Disabled Living as we now know it. We have had turbulent times with a fire almost bringing the charity to its knees. My time of being a trustee over the three decades has been a roller coaster ride but know we own half the fair!
The facility offered by Disabled Living is beyond compare and I will only be happy when every person with a disability in the North West knows about it and can easily tap into it as an amazing resource.
I have been a wheelchair user for more than four decades and therefore fully aware of the kind of support needed by people with similar difficulties. My level of disability is high and determines that I need a significant level of equipment to assist those caring for me. I am also acutely aware that there is a massive spectrum of disabilities, each having its own preferential pieces of kit to make life easier. Due to the above I have the insight, I know, where and how to try and acquire these items so sharing my knowledge seemed to be the obvious thing to do.
Eventually I found myself in a position to spread the word wider due to a close association with the world famous Manchester United. As the Disability Liaison Officer, I had close contact with thousands of disabled fans allowing me the opportunity to explain what a great resource Disabled Living is.
The abbreviated version of my last 40+ years using a wheelchair has made me one of the lucky ones in the sense of being in a position to make a difference. In recognition, HMQ awarded me an MBE in 2004 but there is much to do and I believe the momentum is growing.

Alan Norton

I had visited 'The Cripples Help Society' as it was then known on several occasions to obtain help and information on assistive technology products to help me keep my independence. Consequently the Chief Executive approached me and asked if I would be interested in supporting the organisation by becoming a trustee. I became a trustee in 2003.
The skills and experience I bring to support Disabled Living is a thorough knowledge of finance in a commercial setting for over 33 years. I have written and delivered Disability Awareness training for healthcare professionals. Myself, and my wife who recently passed away, have lived independently for over 40 years, using assistive technology in our daily lives including driving heavily adapted vehicles.
I am currently Chairman of Disabled Motoring UK, Board Member of Driving Mobility, Director of Shopmoblity, Director for Centre of Excellence for Sensory Impairment, Advisor to Devices for Dignity, Advisor to DWP for PIP and previously worked with Capita on PIP. All this experience and skills puts me in a good position to help Disabled Living to grow and develop its services.

Gary Owen

I am co-founder and Managing Director of GTC Management (UK) Ltd which I established in 2001.
As Managing Director of GTC, I have developed and implemented the strategic plan for GTC's journey to success. Day-to-day tactical decisions are interspersed with realising goals, meeting objectives and driving the business forward with a strategic plan for the long term future of the organisation.
Formerly, I was a professional footballer who represented Manchester City, West Bromwich Albion, Sheffield Wednesday and the England National Team. Since retiring from football, I have become a more active fundraiser for various charities, one of which is my company's preferred charity – Disabled Living.
My years of experience in business communications, my networking skills and contacts enable me to help and assist Disabled Living in many areas.
After discussions with the other trustees at a management meeting, we felt that I could contribute to the charity going forward and I became a trustee of Disabled Living in 2015, having been introduced to the charity by long standing trustee, Fred Booth.
The success story of Disabled Living is continuing to grow and I am very proud to be part of their 121 year history.

Jaime Gee

A former Trustee, the late Fred Booth, recommended my agency, Jam to support with PR for the Kidz to Adultz events. Following our work with Disabled Living, I was approached to become a trustee in 2017.
With over 16 years experience within marketing services, I provide guidance to Disabled Living on raising awareness of the charity and its many events and initiatives via media and digital outreach. In addition, I offer input into best practice for the design and creation of marketing and digital collateral, as well as offering training sessions to the wider Disabled Living team on best practice for media relations and social media management.

Jamaine Campbell

I graduated from the UMIST in 1995 and a BSC in Management Sciences and started my career as a software developer in 1997 writing software programs.
Having supplied IT products and services over the years to a number of the trustees of Disabled Living, I had a brief insight to the work that they did and wanted to get involved in some capacity to support the charity in a more hands on way.
With over 20 years of IT software and business experience delivering solutions to many different organisations. I bring an array of hands on experience that can be drawn upon as the charity looks to use the latest innovate technologies from Elite Dynamics to offer a greater degree of support to the people and organisations that we support.
I became a trustee in 2018.
Sarah Jones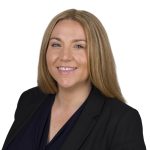 I am a senior solicitor representing disabled children and adults at Clarke Willmott, as well as families, in legal investigations arising out of death or serious injury. I specialise in representing patients who have suffered life-changing injuries such as cerebral palsy, brain or spinal injuries, and amputees. I also handle cases for bowel and bladder patients, people who have experienced delays in diagnosing cancer, and those with orthopaedic or neurological injuries. I act for parents who have lost babies through stillbirth or neonatal death, or are bringing up children with disabilities arising from birth trauma. Through my legal casework, I see first-hand the difference that the right advice, support and equipment can make to someone's life, whether they are in need of vital rehabilitation, or just trying to get their life back on track after injury or a bereavement. This is a passion aligned with Disabled Living.
I also represent families at Inquests in the Coroners Court, which many healthcare workers can be involved with, and I advise on medical cases involving issues of "best interests" as well as those involving psychiatric harm and human rights. I am a qualified Mental Health First Aider.
Alongside my legal career, I work closely with disability charities to provide bespoke legal training and fundraising activities. I first became aware of the work of Disabled Living through attending and exhibiting at the fantastic Kidz to Adultz events. I then created and deliver a training day for the charity, which is aimed at health and social care-workers, Allied Health professionals (such as OTs, physios etc.) as well as carers and NHS managers alike – it is called In The Dock and is a fun interactive training day.
Through giving my time to the training programme, I experienced firsthand the quality of the staff at Disabled Living and the more I worked with the charity, the more I was impressed with the dedication across all teams. Therefore, I was delighted to be asked to join the Management Board of Trustees in 2019. We have a diverse set of talented individuals on the Board, with excellent leadership from our CEO. I am proud to be part of it.
Josh Wintersgill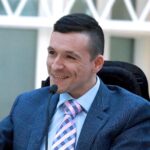 I have been very fortunate over the years to be able to travel around the world, whilst gaining first-hand experience of travelling as a wheelchair passenger by air (I have Spinal Muscular Atrophy). The deterioration of SMA has made travelling by air increasingly difficult and I have since founded my own company Able Move. Able Move provides specialist slings and other devices to help wheelchair users explore new possibilities with safety, dignity and comfort. I alongside my business have won many awards, including UK Disabled Entrepreneur and Great Britain's Best Young Entrepreneur. In addition, I have successfully secured investment for Able Move from the Founder of easyJet, Sir Stelios Haji-Ioannou and his easy family of brands.
Aside from the entrepreneurial world, I actively campaign to help improve air travel through accessibility advisory groups as well providing ground-breaking research on disabled passengers for the aviation industry at a global level. I am also a lover of technology, where I spent 5 years working in Tech after graduating from University West of England in IT management and business and in 2019 I received an Honorary Masters in Technology. Last but not least I am an aspiring Paralympian for Great Britain in air-rifle.