Bespoke Courses for your Organisation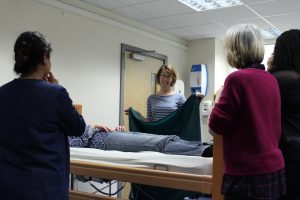 Bespoke Training with Disabled Living is designed to support you with a flexible approach to your training requirements.
If you have particular training needs please discuss them with us, as often our courses can be focused to address your specific needs.
Email the Training Team
Call 0161 214 4590
Training can be delivered for your organisation at our training venues in Manchester or at a venue of your choice. *Suitable facilities and equipment used in the course must be provided*
Please select below which type of training you are looking for to see the whole range in that category. For further information please speak to the training team on 0161 214 4590 or training@disabledliving.co.uk.
Costs
Some courses have a charge per delegate whilst others are charged at a daily rate. Please see the relevant courses for the costs.
When a trainer is required to travel and / or needs overnight accommodation we aim to keep the costs to a minimum. A standard amount will be quoted when you make the booking.
Cancellations
Disabled Living reserves the right to cancel/rearrange course dates.
An alternative date or full refund would be offered.
In the case of a delegate cancelling the following charges will be incurred:
28 days or less full cost
5 weeks 75% cost
6 weeks 50% cost
7 weeks 25% cost
8 weeks Full refund
Terms and conditions
Please view the Disabled Living terms and conditions document for our training courses.