Welcome to Disabled Living's Online Shop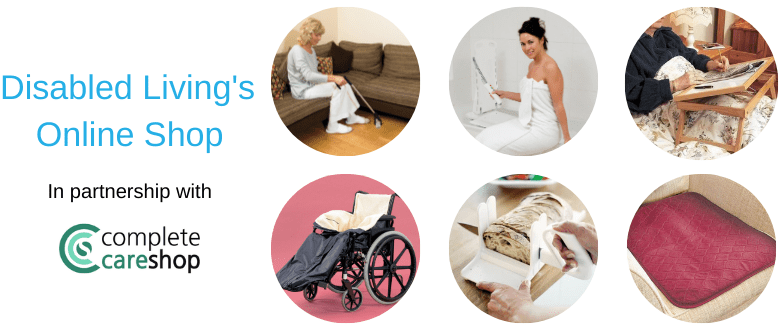 Browse a Range of Disability Aids
To view the full range of disability aids and products, please click on the first button below. Alternatively, you may wish to contact the sales team on 0330 053 5930.
Please make the sales team aware you are a Disabled Living customer.
Sales Line: 0330 053 5930
Email Enquiries
We are delighted to be working in partnership with Complete Care Shop
Providing you with a comprehensive online shopping facility for equipment and products to make life easier. Complete Care Shop has over 250,000 in stock items at competitive prices offering you choice from a wide range of manufacturers including mobility aids, daily living products, continence supplies together with telecare and telehealth equipment. In addition, Complete Care Shop has a reputation for excellent customer service which made the decision to enter into this partnership an easy decision to make!
Disabled Living receive a commission from product sales to support our free helpline services.
Offering a Wide Range of Products and Equipment Including:
Bathing Aids
Beds & Bedding
Seating
Kitchen Aids
Mobility Aids
Moving and Handling
Toileting Aids
Wheelchairs
…and much more!
View Products
Contact Disabled Living for Information and Advice on Disability Aids and Equipment
The main advantage of purchasing via the Disabled Living website, is the opportunity for you or your clients to speak to Occupational Therapists or Continence Specialists for free impartial help and advice, ensuring unnecessary purchases are not made. If you would like to contact Disabled Living's helpline for advice on disability aids and equipment, please call us on 0161 214 4590.