New Wheelchair Gives Carole the Push She Needed!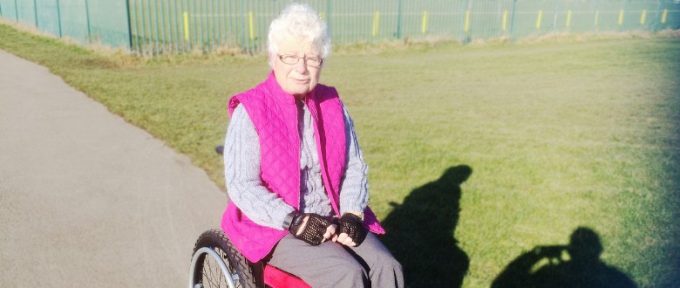 This post has been written by Yorkshire Care Equipment for Disabled Living.
Carole had been given a wheelchair by the NHS Wheelchair Services that met her needs but was simply too heavy for her to push herself in. She decided to take matters into her own hands and started looking for a new wheelchair which was lightweight and would give her some well-deserved independence.
Carole searched for mobility equipment shops in her local area and found Yorkshire Care Equipment. She had a quick phone call with a member of their team and arranged to visit their showroom to look at different wheelchairs that would be easier for her to propel herself in.
Looking specifically at active user wheelchairs, Carole wanted to find a chair that would give her all the comfort and support she needed whilst being lightweight enough to self-propel.
Yorkshire Care Equipment showroom advisor Gary Hornsby-Shawe said:
I showed Carole a range of active user chairs so she could pick the one that suited her needs the most. She had been a bit worried about funding, so I gave her a copy of our charities database just so she knew that help was available should she need it.

We got the perfect chair in the end; Carole is loving it and says it's the best chair she has ever had!
After test driving the different wheelchairs available, Carole settled on a Küschall Champion SK wheelchair in a matte black finish. She personalised it by adding on some matte black Spinergy wheels and specially design oval-shaped hand rims with a built-in rubber lining for extra grip.
Carole then returned to Yorkshire Care a few weeks later to buy a SmartDrive powered add-on which will give her some extra power when pushing her new chair.
Carole said:
Before, I was using a heavy old chair. It was uncomfortable and hard to propel.

Gary was very patient with me when we bought the chair and he gave me the advantages and disadvantages of all the models I tried. Yorkshire Care helped me choose a chair that fitted me.
The Champion SK wheelchair weighs less than 10kg and folds down to a very compact size so Carole can enjoy days out with no hassle at all. To see the SmartDrive powered add-on in action, watch this video.
Yorkshire Care Equipment are listed in our Supplier Directory.