Disability-Friendly Places to Visit in the UK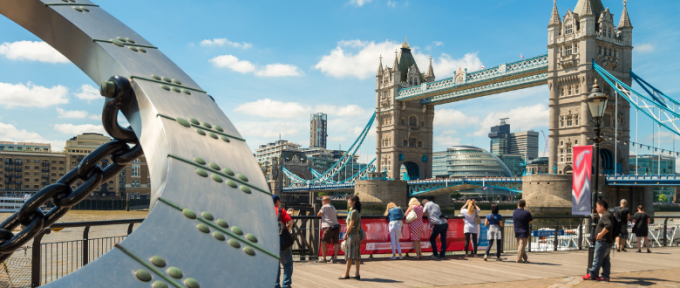 This is a guest blog post written by Ellie for Disabled Living.
England boasts many world-famous attractions. For people with limited mobility or accessibility needs, finding access to ramps, lifts, toilets and other concerns are huge considerations. 
With some planning, people with disabilities can still visit a lot of fantastic attractions in the UK. To help you get started on your vacation planning, here's our list of great disability-friendly places in the UK. 
British Museum
The British Museum is one of the UK's top attractions. It is also a fantastic disability-friendly place to visit in the UK. Visitors can spend an entire day here to enjoy the various exhibits featuring Greece, Egypt, the Middle East, the Americas, etc. 
The main entrance in the front (Great Russel St.) has a wheelchair lift that is self-operable. Disabled visitors can avail concessions for paid exhibitions. Companions/carers can also get free entry. The British Museum offers a lot in aiding the visually impaired. They conduct handling exhibits and touch tours as well as large-print guides and magnifying aids. They also offer a British Sign Language (BSL) guide for free. 
View this post on Instagram
Tower Bridge
Tower Bridge is one of the UK's most iconic landmarks and it is also disability-friendly. It is a magnificent sight to behold from the outside. However, people can also see it from the inside to see how the drawbridge works. 
Formally opened in 1894, Tower Bridge's walkway offers one of the most beautiful scenic views. All levels of the tower can be reached by taking lifts. There is a lift in the north side tower which will take visitors to the exhibition centre where the main display can be viewed. Induction loops, subtitles and scripts for the video presentation are also made available to visitors.
For wheelchair users who want to see the engine, there is an accessible route to the below-ground engine room on the south side of the building. There are accessible toilet facilities throughout as well. 
View this post on Instagram
Eden Project
The Eden Project in Cornwall is known as the world's largest indoor forest. The Eden Project's Rainforest Biome offers visitors the experience of visiting rainforest environments in the Tropical Islands, Southeast Asia, West Africa and Tropical South America.
It houses rare and exotic plant life that can be enjoyed by its many visitors, including people with disabilities. They offer free admission to companions/carers, free use of manual and powered wheelchairs and provide accessible toilet facilities. 
There are three main routes that all visitors can use to view the displays. They also offer a hearing loop system, audio tours and a Braille guide book. Wheelchair users can also experience a tropical climate in the disability-friendly Rainforest Canopy Walk. 
View this post on Instagram
Brighton Dome
The Brighton Dome is home to three separate venues that make up one big space – The Corn Exchange, Concert Hall and Theatre are perfect for bringing the arts to life and ideal for hosting conferences and private events. 
In terms of accessibility, the Brighton Dome is highly accessible with its lifts and audio devices throughout the venue and an accessible parking lot for the disabled. 
The Brighton Dome Concert Hall's auditorium seating can accommodate 300-1700 people with various sightlines and configurations of the auditorium seats. It also offers a designated area for wheelchairs and mobility buggies at the rear of the auditorium with easy access to the toilet facilities and the foyer.  
Wheelchair users can also opt for standard auditorium chairs. Staff can assist them in transferring to the auditorium seats and will help store their wheelchairs during the show's duration. 
View this post on Instagram
London Zoo
The London Zoo is one of Regent Park's best attractions for the past 200 years which boasts of various exotic animals and interactive enclosures that educate visitors.  
Spread over 36 acres of land in Regents Park, wheelchair access is also available through most parts of the zoo. The London Zoo has a wheelchair-friendly entrance next to the main entrance. It also has a disabled bay in front of the entrance to the zoo.
There are lifts to viewing platforms for some attractions such as Tiger Territory, Land of the Lions and The Aquarium. Wheelchair-accessible toilets can also be found at various locations around the zoo.
View this post on Instagram
Royal Botanic Gardens
The Royal Botanic Gardens in Edinburgh is another beautiful disability-friendly place to visit in the UK. It aims to provide the best possible access to its visitors so that more people can enjoy their visit.
The Royal Botanic Garden is accessible for those who are disabled. There are places to sit in the shade, water assistance checkpoint for people that have guide dogs. People with mobility issues can even rent scooters and wheelchairs for free. Accessible toilet facilities are also available in the visitor centre, restaurants and throughout the gardens as well. 
View this post on Instagram
Life Science Centre, Northeast England
The Life Science Centre in Newcastle is perfect for people who want to have an educational day out. It also offers facilities for people with limited mobility.
The Science Centre is wheelchair friendly so wheelchair users can easily enjoy various exhibitions. Companions/carers' entrance fees are also free of charge. The building's level layout as well as lifts to different floors, make access much easier. Hearing loops and printed guides are also available for people with impaired hearing and visual abilities. 
View this post on Instagram
Cadbury World
Want to know more about the history of chocolate? Cadbury World in Birmingham is a must-visit attraction for all chocolate lovers! 
Another great thing about Cadbury World is that it is a fun place to visit! Lifts, ramps and low-level exhibits are available throughout the site. Some of their rides have also been adapted for wheelchair users. One example is a bean mobile on the Cadabra ride. 
Throughout the facility, people will find support for people with limited mobility. There are rails and support arms, height-adjustable sink units and height-adjustable changing beds, automatic toilets, ceiling lifts and modesty screens.
Guide dogs are also allowed in the building, except for chocolate production areas. Don't worry. Visitors can avail of a dog-sitting service while they are in the chocolate production areas. Scripts of the video presentations and infrared hearing systems are also available for the hearing impaired. 
View this post on Instagram
Giant's Causeway, Portrush
The Giant's Causeway in Portrush boasts of 50,000 natural steps leading to the sea. Since it was purchased by the National Trust, it has become wheelchair accessible so that more people can enjoy this natural beauty. 
Wheelchair users will find accessible toilet facilities on site as well as free shuttle buses and ramps at the visitor centre. The visitor centre also offers a unisex Changing Places facility that includes an adjustable height changing table, sink, shower and overhead hoist.
View this post on Instagram
Bournemouth beaches, Southern England
The Bournemouth beaches are popular seaside destinations. It has also become one of the best disability-friendly places to visit in the UK.
People with disabilities can enjoy adapted beach huts that have space for wheelchairs. There are also accessible charging points for electric scooters. Visitors can even hire multi-terrain wheelchairs with balloon tyres that are ideal for going to the beach. 
Visitors who want to enjoy the scenic views can go on three cliff lifts that are open throughout the summer. They can also explore the city while on wheelchairs while enjoying fish and chips during their seaside vacation. 
View this post on Instagram