The Community Grocer Food Project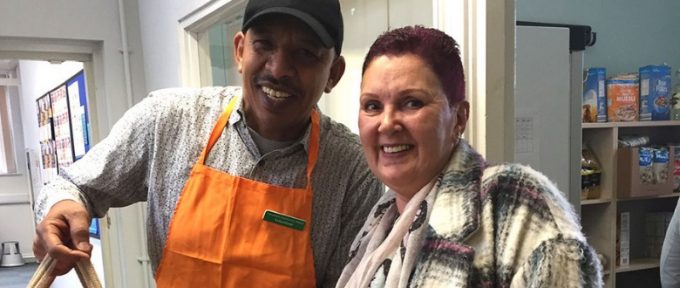 This post has been written by Sally Devine at Healthy Me Healthy Communities for Disabled Living. Healthy Me Healthy Communities is a Manchester social enterprise for strengthening communities, improving health, well-being and quality of life outcomes by working with people most affected by poverty and social exclusion.
Our food project, the Community Grocer, is a key part of Healthy Me Healthy Communities. It is a redistribution scheme for surplus food and household items that would otherwise go to waste. They look and feel like a traditional shop with members paying £2.50 for around £12 worth of goods including fresh produce. But they are more than just a shop, they are a valued community hub.
Each Community Grocer is locally managed and controlled, meeting local needs and a place where people want to go. Along with tackling food poverty, they are a starting point for transforming lives by offering activities, training, volunteer opportunities and access to partner services.
We have been very successful with our Grocers which continue to thrive
We are opening our 6th Community Grocers in Hulme on 26th February. Members of our existing Community Grocers who recently took one of our Food Skills courses stated,
"As a result of the course I find it very easy to go out and do shopping. I feel confident to converse with people and feel more sociable."
Rich Browning, CEO of Healthy Me Healthy Communities said:
"The Community Grocers are a great way of bringing people together and connecting people to activities and services, tackling the long-term causes of poverty and isolation."
We have some exciting events coming up we'd love you to come to:
Gorton One year anniversary party
Date: Friday 15th February
Time: 9.30am – 12.00pm
Venue: 543 Abbey Hey Lane, Gorton, M18 8PF
Miles Platting Half Term party
Date: Thursday 21st Feb
Time: 9.30am – 12.00pm
Venue: Queensbury Court, Wardle Street, Miles Platting, M40 7DD
Coverdale and Newbank CG cook and taste sessions
Date: Thursday 7th and 14th February
Time:
Venue: Cornbrook House, 217 Stockport Road, Longsight, M12 4DY
Hulme Community Grocers Opening Launch
Date: 26th February
Time: 11:30am – 3.00pm
Venue: Aquarius Community Centre, Hulme, M15 6AX
Fallowfield Community Grocers 1 year anniversary party
Date: 1st March
Time: 9:30am – 12.00pm
Venue: The Place at Platt Lane, Platt Lane, M14 7FZ
If you would like any further information please contact us on 07305 325 369 or email on info@healthymehealthycommunities.co.uk
Julie's over 50's information:
Would you like to make a difference to your community?
Want to meet other like – minded people?
Would you like to put your life skills and experience to good use?
Are you aged 50 years or over?
Join Healthy Me Healthy Communities for a new project for developing new social ventures in Manchester. The project is for people aged 50-years or over and will include training, mentoring and on-going support. We will be starting at the Aquarius Centre (Hulme) developing a community-café at the centre. Interested? Come along for an informal chat over tea and biscuits on Wednesday 27th February 11.00am – 12.00pm. The training dates are Wednesdays 6th, 20th and 27th March and 3rd April.
Booking your place
Please call Julie Thornhill, Development Worker (Ambition For Ageing) on 07305 053660 or email julie@healthymehealthycommunities.co.uk