Yang Sing Cathay Launch New Christmas Dish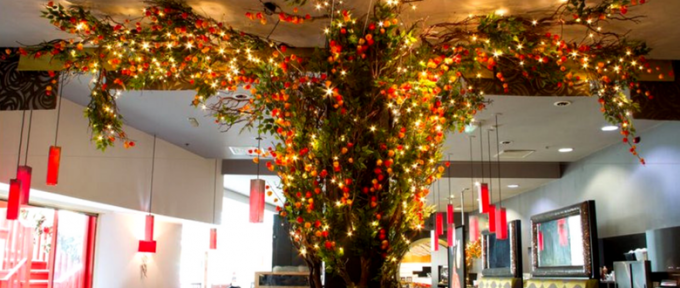 For November's Story of the Month, we would like to do something that's a little different. Usually, we dedicate this post to a person to recognise their potential or amazing achievements. However, this month we would like to dedicate this blog to the hardworking spirit of more than one person, which is the whole team at Yang Sing Cathay in the Trafford Centre. Disabled Living are interested in what's on in Manchester and we thought this would be the perfect opportunity to share Yang Sing Cathay's new Christmas dish with you.
This year Yang Sing Cathay has created a special Christmas dish! We spoke to Louise, Marketing Executive at Yang Sing Cathay as she shared her thoughts:
It was quite challenging to find a balance between a traditional British turkey dinner and a Chinese dish.
Louise suggested that Yang Sing create a Christmas dish and insisted that they serve turkey breast. She felt that turkey is the essence of Christmas and the blackcurrant sauce goes so well with it. She described it as giving the dish 'a real Christmassy taste' as well as a Chinese taste.
On Monday 27th November, the new dish was available for customers to try
They were offered offered them three different sauces, a sweet chilli sauce, which only a few people liked, along with Plum and Hoi Sin sauce and a fruity blackcurrant sauce. Most people enjoyed the Plum and Hoi Sin sauce and blackcurrant sauce the most.
One customer said:
The deep fried turkey works really well, the fruity sauce is delicious.
With the help from Gerry Yeung, the Head Chef and Louise the decision has been made! Turkey breast goujons, served with either Plum and Hoi Sin sauce or Blackcurrant sauce and sesame seeds. The coating is made from self raising flour and potato starch.
The team are very much looking forward to Christmas. Julie the restaurant manager said:
It's nice that we are serving a turkey dish with a Chinese twist.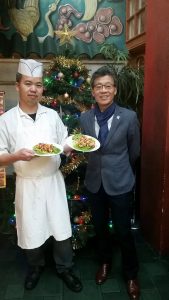 Another member of the Yang Sing Cathay team, Kong a senior waiter who has been working for Yang Sing Cathay for more than 10 years said:
Our Christmas tree has been up since October we are very much in the Christmas spirit.
Thanks to the Trafford Centre who also put their Christmas decorations up and began to showcase their Christmas lights display on 2nd November.
The special Christmas turkey goujons will be served in Yang Sing Cathay from Monday 4th December. To find out more about Yang Sing Cathay, please visit their website. Or you can follow them on Facebook, Twitter, and Instagram.