Stratford upon Avon Boat Club (SUABC)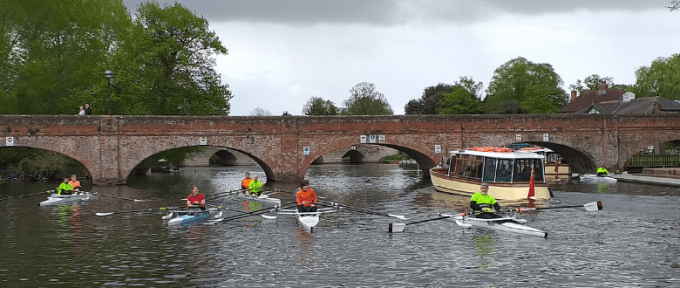 Mark Dewdney, Head Coach of Adaptive Rowing at Stratford upon Avon Boat Club (SuABC). Mark has coached adaptive rowing for nearly 15 years and has been at Stratford for 5 years. He chairs the Club Adaptive Group that works directly with the governing body, British Rowing, to develop the sport. Mark discusses the club's history with Disabled Living and we also hear from a few members at the boat club.
"The SUABC adaptive squad started in late 2015 with just 2 disabled rowers. In the 5 years since it has grown to 10. Just about the largest such section in the UK. There are several sessions during each week with each rower attending when they can. The team goes to rowing events around the south of England. Whilst this is what the squad is designed to do racing is not compulsory; participation and enjoyment is the order of day.
Current athletes include individuals suffering from spinal cord injuries, hemiplegia, visual impairment, ABI, autism and other issues. We cater for all ages from 13 upwards; and most disabilities with the proviso that it must be considered safe for the person to be in a rowing boat. Everyone is risk assessed!
To provide a safe environment there is a large group of coaches and helpers. We have built the support structure up as squad numbers have increased. The club ethos is that everyone helps each other. Athletes, family and friends are encouraged to contribute in any way they can. It is not just about being on the water. It is all the little jobs that make that possible. This evolutionary approach of only taking more rowers on when we have the infrastructure to support them is the basis for our success.

The club is in a building that is over a hundred years old. This brings the usual problems of access. We are still far from perfect, but we are working slowly through a long list of improvements to make the place as user-friendly as it can be. As soon as covid-19 allows a ramp to the landing stage will be installed and a new safety launch will be delivered. A proper lift to the club gym is a long-term goal. Despite the clear and in certain areas, continuing issues, we have made it work. If we see a problem, we try to address it. This is ultimately why we thrive. Read on to discover some case studies below.
Kelly

Once upon a time I was, amongst other things, a keen mid to long distance runner. I trained regularly with my local running club, the Sparkhill Harriers, and completed various half marathons and a full marathon. In 2010 I had an accident, I broke my back and severed my spinal cord, rendered paraplegic; reliant on a wheelchair for transportation, it would be fair to say that, at the time, I was devastated at the prospect of never being able to run again because I loved it so very much.
I discovered adaptive rowing, at Stratford upon Avon Boat Club (SuABC), last summer after what was a particularly difficult summer in terms of my disability and health issues, though I had been doing ergo rowing (on a machine) prior to that, post injury, never before had I rowed on a river. My life changed from that moment onwards, immediately; I got a sense of freedom that, quite honestly, I hadn't had since the days I used to take a leisurely 10K burn around my old neighbourhood. Mentally, rowing helped me out of a hole and the physical plus of any exercise is tried and tested. Honestly, I am hooked and feel very lucky to have found the team and am grateful to the coach and volunteers at SuABC for dedicating all the energy and time that they do so that disabled people, like me, can take part in such an amazing sport. I am naturally competitive and feel as though I have found my calling, whether I get good enough to win races, or not, I get satisfaction from improving each day, and really cannot wait for a time when I can get good enough to be entered in to a race. I feel like I have so much to look forward to, this time last year I was feeling lost and was in pretty bad shape really. I thank you from the bottom of my heart.
David
"David Rose, a tetraplegic wheelchair user talks about his experience. Growing up in Stratford-upon-Avon I spent a lot of time by the river and myself and friends often hired out one of the rowing boats. This was great fun and enjoyable and gave me a taste for being on the river. After I broke my neck, 33 years ago now, my life certainly took a different direction, but I continued to do as much as a wheelchair user as I would have done if I would have still been walking. I have done many different types of outdoor activities and played a number of sports, my main sporting achievement being part of the Great Britain Wheelchair Rugby Squad.
I had always known about rowing on the river and have often watched people rowing as I walk my dog along the river but I'd never thought about whether it would be possible for me to be able to go out rowing. Then, one very cold day last November I was crossing the river bridge and looking down I saw the boats out and about and also a couple of people in wheelchairs, so I had to go and say hello.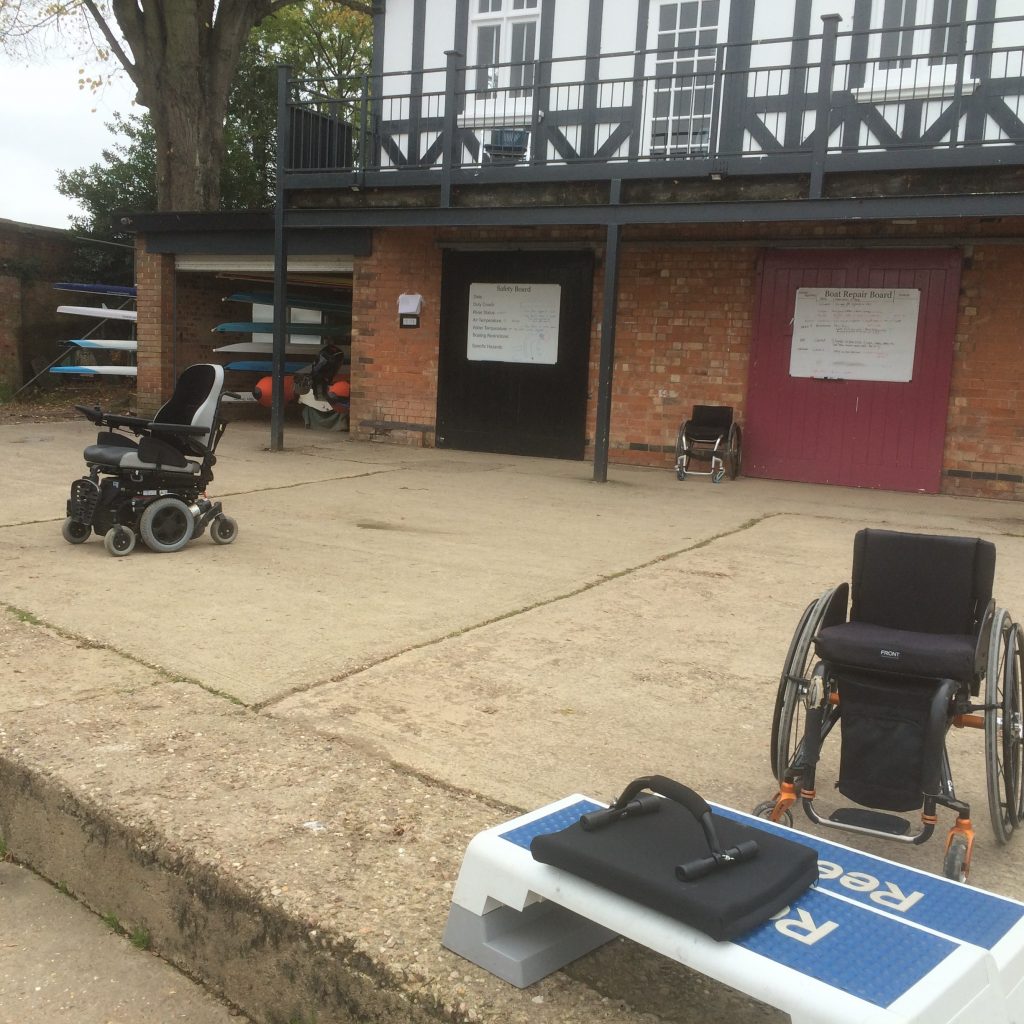 After chatting to people for a while the rowing session ended and everyone was going across to the local pub and I was asked to join them and from that point I have really felt part of the adaptive rowing squad as everyone was so welcoming and easy to get on with.
As someone who is very new to rowing the things, I've picked up on is the camaraderie of the group and how supportive everybody is of each other.  Whether you want to become a club rower or take it to the next level and become a very competitive rower there is certainly a level and depth of understanding about rowing that I have already picked up on from just being able to go up and down the river watching from the bank to seeing people get in and out of boats.
The level of support that an individual requires is well thought through and given in a very relaxed way that means getting into the boat is done in such a way someone feels safe but not overwhelmed.
By now I would imagine you have a picture of me really enjoying rowing up and down the river but so far, I've yet to get in a boat! Just after I'd first said hello to everybody the whole of the UK was hit with awful weather and floods which stopped rowing for many weeks and then the bad weather progressed further and now with the current lockdown situation I've still to try rowing out.
Even without being able to meet up the adaptive squad have stayed in touch via email but also daily on WhatsApp. From conversations and just touching base to make sure everyone is okay to being incredibly supportive meaning the social isolation isn't having such a big impact.
I am really looking forward to the end of the lockdown so that I can go out rowing properly for myself.  To be able to get back into the outside world for all of us will be so appreciated and I have really missed mixing with a really great group of people. It is something I'm looking forward to immensely. If rowing is something that interests you, no matter what your disability is, I would really encourage coming along and giving it ago as well.
Ian
Paola writing on behalf of her son (will be at a special needs school until he is 20)
My son, Ian (18), was diagnosed with Autistic Spectrum Disorder with Learning Disabilities and Challenging Behaviour when he was 4 y/o. He began rowing 5 years ago. This sport has given him the chance to learn new skills outside of an academic environment. It lets him blow off steam whilst also keeping him healthy. With rowing, Ian feels part of a community where he can socialize and learn to work as a team.
Ian says: "I like rowing because it makes me fit and healthy. I like my coaches because they are kind and caring and they help me to be a better rower. My favourite boat is the double. I love regattas."
Learn More About the Stratford upon Avon Rowing Club
Thank you for Mark and his team members at Stratford upon Avon Boat Club for sharing your stories with Disabled Living. For more information about the club please visit: http://www.stratford-rowing.co.uk/