Change in Mobility? We look at how to raise your spirits and quality of life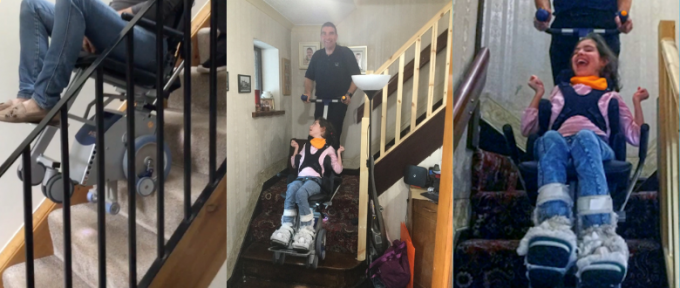 This is a sponsored blog for Disabled Living written by Peter Wingrave, Sales Director at AAT GB.
If you lose a degree of mobility, one of the most likely scenarios is that you can't get upstairs to bed. Typically, the solution is for you to move the bed downstairs- assuming there's sufficient space- with disruption to every member of the household. So daily life is immediately impaired, because of the psychological stress such disruption causes, and the worry about the impact on everyone else in the home.
Even if the situation is not that drastic, you are still finding it difficult if not impossible to get anywhere that involves going up and down steps.
If reduced mobility is going to be a long-term situation, you may be advised to have installed equipment such as a stairlift or through-floor lift, but that takes time, and can have a big impact on the way everyone in the household can use the home.
How to minimise disruption to you, your home
Don't worry. There IS a solution, which have no physical impact on the fabric of your home, that require no moving of furniture around.
A powered stairclimber enables your carer to move you safely, securely  up and down stairs. Looking like a compact wheelchair, the device features a battery motor which drives the kinematics for a smooth, continuous motion up and down steps. As with so many things today, numerous versions exist so it is worth ensuring the one you get is right for you as the passenger, and whoever is operating it for you.
Most Local Authorities/ Community Health Providers even have such equipment in Stores, so can very quickly prescribe and organise one to be delivered to your home. Private providers, such as
AAT GB, will work alongside the Occupational Therapist to undertake a free of charge detailed assessment. This will ensure that the stairclimber is appropriately adjusted to fit and accessorised for your passenger, and that you are not only comfortable using it, but appropriately trained.
Once you have it, you can safely go wherever you want within your home, without effort and without optimum safety.
What should you consider in choosing a stairclimber?
Most importantly, the device needs to be able to safely and easily accommodate your flight of stairs. In Britain we have so many different shapes and sizes of staircases. They vary in width, straightness. On the level, they may immediately be a turn or doorway to navigate.
It needs to be easy for you to transfer onto and off. You need to feel safe. Your operator needs to feel confident about using it.
It needs to be easy to power and keep powered. It needs to be able to move easily over every common type of floor and floor covering, from tiles to carpet. It needs to be designed in such a way that it does not damage the stair risers.
It needs to be substantial enough to bear the weight of the passenger, regardless of their size, but light enough for you as operator to be able to easily steer and guide it. It needs to be simple to understand and to use: if it's too complicated, you won't use it, for fear of getting it wrong, or it just being too much effort.
See how it works here:
https://www.facebook.com/171211186281476/videos/727053154686085/
Supporting you
The AAT S-Max stairclimber is Class 1 Medical Device certified, and can be accessorised with appropriate harnessing and/or support cushions to perfectly hold the passenger secure as the operator guides the machine. The battery-powered device can execute 300 steps from one charge- more than enough to undertake daily transfers up and down stairs to and from bed for more than a week.
With a 15degree balance point, it is easy for most people, regardless of size, height, shape, to operate and steer. The speed of climb can be infinitely adjusted to where the operator feels comfortable and in control.
When not in use, it can be folded compactly and stored away.
Beyond the physical support the stairclimber provides, AAT is the only national provider of such equipment. It provides short, medium and long term hire and rental, as well as purchase. It provides- free of charge– the most comprehensive assessment of the equipment suitability for each user, with the additional ability to accessorise and adjust the stairclimber to fit precise needs. AAT further delivers comprehensive training for operators, to ensure they are comfortable using it.
And there is full UK-based support via telephone, email or LiveChat should you have any questions before, during or after receipt of your stairclimber.
Visit AAT GB on https://www.aatgb.com/mobility-stairclimbers/ and https://www.aatgb.com/hire-rental/ to find out more.