How an Occupational Therapist Helped in a Kenyan Sanctuary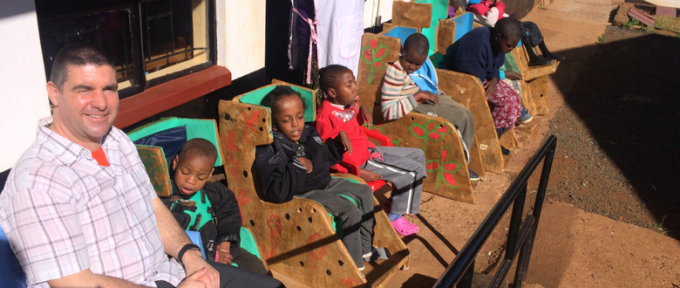 This Story of the Month has been written by Gareth Brown, Development Manager at AAT GB Ltd for Disabled Living.
In October 2017, we received a video clip from an OT from Northern Ireland. She was making an enquiry about buying a Chillibean. This is one of our Stabilo vacuum posture cushions. Nothing unusual in that, it is a very popular and versatile piece of equipment after all. However, that's where normal ended and an adventure began!
Jolene Allen is a missionary Occupational Therapist working out in Kenya. She runs a centre called the Metropolitan Sanctuary for Children with Disability in Nyeri. In her video, she described a country where approximately 70% of the population of children with a disability live below the poverty line. Free healthcare is extremely limited to children under 5-years-old for rehab. Physio and government hospitals are overwhelmed with huge queues and limited resources. Assistive devices such as Orthotics, prosthetics and wheelchairs sadly aren't free. Also, there aren't affordable to most people or are impractical.
Having a child with a disability can be stigmatised and is believed to be a curse to many families.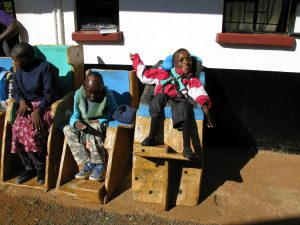 The sad results of this are that, many mums are left to cope with children with disabilities on their own with little or no social support. Often, mothers themselves buckle under the pressure of stigma and self blame. They run away, deserting the child. Many get raised by grandmothers. Many get abandoned. Tragically, in some tribes, they are not allowed to live. The reality of this is that many children spend their lives lying on a bed looking at the ceiling, and are often left all day. Sometimes, they're tied to the bed, while the mum has to go out and work just to be able to support the family and survive.
Sadly, there aren't support systems for feeding or supportive seating. So, deformities go unchecked and many of these children don't survive into adulthood.
It's a pretty gloomy picture for such a fast developing African country. Though the government and charitable organisations are endeavouring to develop health services, progress is slow. Particularly in the area of custom made adaptive seating, which still remains out of reach for the vast majority who would benefit from it. Should a child be fortunate enough to have rehabilitation services, it's common that staff who ought be prescribing equipment, are largely accustomed to disregarding positioning altogether.
So what's Jolene up to?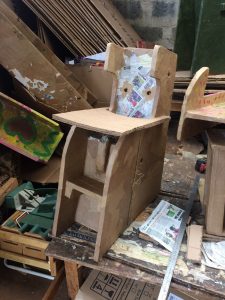 She's been at the Sanctuary for over seven years now, overseeing the rehab services including therapy services, medical reviews, medicine, day care, counselling, support and even residential services for the most disadvantaged children. She established a social enterprise hub, which involves employing mothers of children with disability to make paper with recycled materials and create beautiful hand crafted art.
The really amazing part is what they're making for the children. Jolene has mastered the art of using recycled cardboard and paper to make custom postural seating and equipment. Each child is assessed and measured and has a perfectly matched cardboard chair (or standing frame, or combination of the two) made for them. This allows them to be able to sit up and be part of family life. It helps their posture, breathing, swallowing and digestion and raises their quality of life to unprecedented levels. Families are also gently educated in the importance of this when they are given the equipment as well.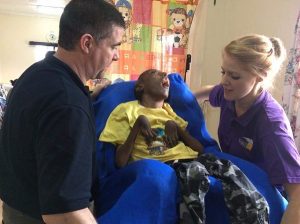 Not resting on her laurels, Jolene has been tackling ever more challenging seating for the children. She uses extremely complex shapes, vacuum bags, vacuum cleaner and polystyrene beads to create moulded patterns. And then making papier-maché seating systems mounted into cardboard bases. This has proven quite a difficult undertaking with such basic but ingenious equipment, which triggered her call for help to us.
We were so inspired by her amazing creativity and achievements. AAT donated a Stabilo Grande mattress to the Sanctuary to use for creating the moulded seats. This proved to be a very useful tool for making more accurate moulds and is now used to form plaster of Paris body templates of each child so a custom seat can be made. I also offered to help with advice. And after many, quite technical conversations, it was clear that talking about it just wasn't good enough.
An inspirational adventure
An adventure was long overdue for me. So, mid February found me on a plane heading out to Nairobi on my first ever trip to Kenya. What a week it was! I had a very busy time. First, coaching everyone on how to get the best out of the Stabilo cushion. Then we experimented with the various techniques used in the UK for creating custom moulded seating but adapted them to using only the resources available locally. It was such a rewarding experience and a privilege to work with Jolene and her team of dedicated staff. We had great fun problem solving on such a practical level where every tiny improvement would make such a huge difference. I could easily have stayed for a month and still had so much more to do.
So, what next?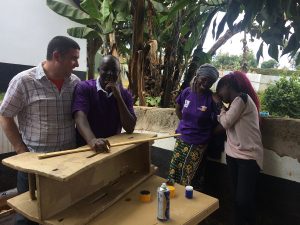 A return trip is certainly on my to-do list! They are currently raising the funds to build the next part of the Sanctuary, a three storey building to house children during extended intensive therapy visits, accommodation and training facilities for OTs, physios and families. There's still a long way to go but the ground has already been excavated and the giant retaining wall has been built by hand over the last 9 months.
The Cardboard seating is moving on to a next generation of more adjustable, longer lasting seats with improved shaping, cushioning and harnessing. Moulded seating is still in development while materials are being sourced locally, hopefully including liquid Polyurethane foams from BASF chemicals for foam in place seating.
My next project has already started, building a foam carving duplicator machine so a copy can be cut straight from the Stabilo cast of the child's shape, saving a lot of time and cost. This would mean the plaster of Paris body print would not be needed and a child can be test fitted while still at the clinic, potentially saving the family many hours of uncomfortable additional travelling.
Grateful for any assistance
Jolene and her team would be grateful for any assistance from professionals in all areas of rehabilitation services. This includes: PTs, OTs, SLTs, Orthopaedic Technicians, or people with experience in wheelchair or seating services. They're always keen for people to buy and sell their paper products. And they have a £100 box challenge every Christmas where you retail £100 of their products to family and friends. For further information visit Sanctuary Artists website.
To find out more about the wonderful work going on at the sanctuary please click here.