Cerebra Innovation Centre Wins Prestigious St David Award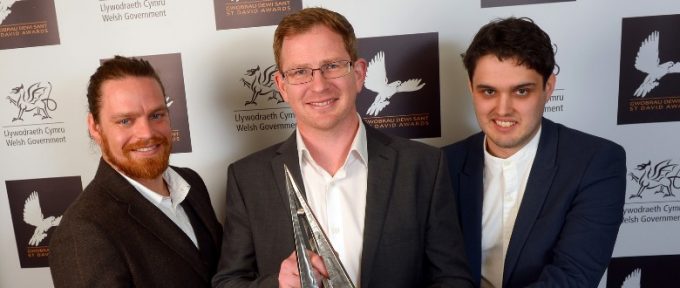 This post has been written by Cerebra on behalf of Disabled Living.
The Cerebra Innovation Centre (CIC), a partnership between Carmarthen based charity Cerebra and the University of Wales Trinity Saint David (UWTSD), has won a prestigious award for Innovation, Science and Technology Award at the annual St David Awards ceremony organised by Welsh Government.
Cerebra Innovation Centre is a team of engineers based within UWTSD's Swansea College of Art. They design and build innovative, bespoke products to help disabled children to discover the world around them. Their designs are desirable and exciting as well as functional, promoting social inclusion and peer acceptance for the children they help. Products and advice are provided to families free of charge.
The St David Awards are the national awards of Wales and are nominated for by the public.
Now in their sixth year, the Awards offer the opportunity to celebrate the nation's most inspiring and talented people, and to give them the national recognition they deserve.  The finalists and winners are decided upon by the First Minister of the Welsh Government and his advisers.  The winners of the nine St David Awards categories were announced at a special ceremony that took place in the Senedd in Cardiff on March 21st.
"The CIC team are so proud to have won the St David Award!" said Dr Ross Head, Product Design Manager, CIC. Our jobs give us so much satisfaction; to be able to help children access activities that most people take for granted is a great privilege but to be recognised nationally for our work is simply amazing. A huge thank you to all of the Cerebra staff and our supporters, without whom we would not be able to fund this work. We believe that, with a little bit of help, anything is possible – I hope that winning this award will pave the way to helping many more children across the UK."
Tracy Elliot, Head of Research and Information at Cerebra added:  "We are delighted to have won the St David Award 2019 for Innovation, Science and Technology.  We believe passionately that the young people we support should be able to take part and participate fully in society.  We develop innovative and, above all, fun solutions to the problems and barriers parents raise with us. Our designs aim to reduce some of the social stigma attached to disabilities by making not only functional but beautiful products that enable our young people to participate in activities that are too often closed to them.  We aim to demonstrate what can be achieved with the right attitude and support and hope that by winning this award some of our passion and belief will influence others."
Ross and the team develop logical, innovative and fun solutions for children with brain conditions.
Their designs aim to reduce some of the social stigma attached to disabilities by making not only functional but also beautiful products for amazing young people. Some of their products are 'one-off' bespoke designs, others are made in small batches and some are designed with the commercial market in mind.
The ethos of CIC is simple – if they can dream big, they can do big. Never accept it's not possible. The Team have designed lots of equipment to help children in disabilities participate in activities such as surfing, horse riding and even triathlons. Last Autumn CIC helped six-year-old Imogen, who has cerebral palsy, reach the top of south Wales' highest mountain in a specially modified four wheeled mountain bike.
Imogen's mum, Catherine, explained the difference the team have made to her family:
Imogen was so thrilled and excited to have completed the climb. It's only thanks to the team at Cerebra that she's been able to have this adventure. She's never been able to do anything like this before because of her cerebral palsy. There have been so many times that she hasn't been able to join in with physical activities which leaves her feeling left out. Being able to do things like this is a real boost to her confidence and self-esteem. We really are over the moon that CIC have won this Award.
Professor Ian Walsh, Dean of UWTSD's Swansea College of Art is extremely proud of the team, adding: "The University is delighted that the Cerebra Innovation Centre has won such a prestigious award. The innovative and inspirational work of the Centre has transformed countless lives over the past 15-years".
For more information on Cerebra and the Cerebra Innovation Centre, please visit www.cerebra.org.uk