How do you get a blue badge?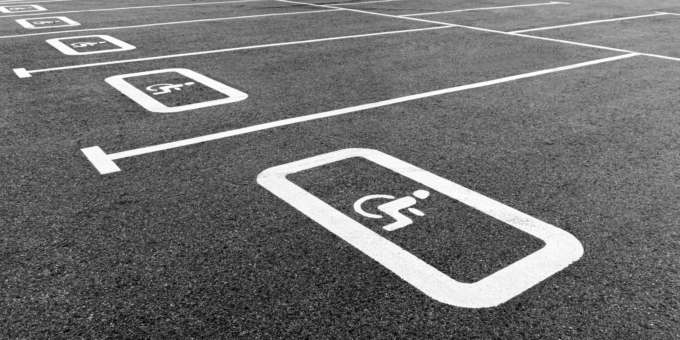 Blue badges enable people to park in spaces reserved for people with disabilities. In this article, find out more about a blue badge, who is eligible for one, and how to get your own.
What is a blue badge?
A blue badge is an aid put in place for disabled people or those with a health condition that affects their mobility. It is linked to the person as an individual, not a vehicle, so it can be used in any car you are in, whether as a driver or a passenger. This includes taxis, hire cars or any vehicle you are travelling in.
The badge holder is entitled to free parking in disabled parking bay, at parking meters and pay and display bays. Parking is also permitted on some single and double yellow lines up to three hours (where restrictions don't apply). You can find more information about the specific parking restrictions on your local council website.
You can apply for a badge for yourself, a child in your care with a mobility issue or for an organisation if you regularly transport those eligible for a blue badge.
How do I get a blue badge?
The application process is slightly different depending on the specifics of the mobility issue.
Automatic eligibility 
If you are automatically eligible for a blue badge the application will be straightforward. If any of the below are relevant to you, you are automatically eligible :
You are registered blind
You have the highest rate of Disability Living Allowance (this will be stated on your decision letter)
If you receive War Pensioners' Mobility Supplement
You received tariffs 1 to 8 of the Armed Forces Compensation Scheme and were certified as having a permanent and substantial disability
When you receive Personal Independence Payments (PIP) you are automatically eligible for a badge if you meet certain scores on your assessment:
If you scored 8 points or more in the 'moving around' area
If you scored 10 points in the 'planning and following journeys' area and were put in category 'E'. This means that your stress, anxiety or other mental health issue stops you leaving the house
You can check your decision letter if you need clarification
Other eligibility conditions 
If you are not automatically eligible you can still apply, and will need to provide some additional details on the mobility condition you need assistance with. This will be the case if you:
Have long term problems walking or going places (including problems caused by mental health conditions such as stress or anxiety)
Are applying for a child aged over 2 who has a problem walking or going places, or a child under 3 who needs to be close to a vehicle due to a health condition
Have severe problems using both your arms
Problems walking or going places
The problem you are experiencing should be as a result of a severe and permanent disability. You will be asked to explain this in as much detail as possible.
It is important to estimate how far you can walk without support before you start to feel pain or need a rest. This can be counted in distance or number of steps.
It is important to include how long it takes you to walk this distance, how you walk and how this makes you feel.
A child who needs to be close to the vehicle
In the application you will be asked to specify why the child needs to be close to the vehicle.
You can do this by explaining how the condition requires you to get home or to the hospital quickly, or by listing the medical equipment you need to transport and why.
Try and describe the requirements in as much detail as possible, including how often you need the equipment, and how frequently or quickly you need to get to the hospital.
Are you applying on your child's behalf? Find up to date advice and information from our Kidz to Adultz team here
Non-visible or hidden disabilities
The problems walking or needing to be close to the vehicle could be caused by either a physical or non-visible (hidden) disability.
Anyone with a disability that causes difficulties or distress when walking when part of a journey can apply for a blue badge, not just those who experience an issue as a direct result of walking.
Local authorities will seek the advice of expert healthcare professionals for example a gastroenterologist, for any disabilities such as crohn's disease, ulcerative colitis or inflammatory bowel diseases that might cause difficulties when walking as part of a journey.
These professions were drawn upon by the department for transport when laying out the guidelines for eligibility and will be consulted by local authorities when determining an applicants need for a blue badge.
If you are experiencing difficulties due to bladder or bowel related issues you can find useful resources and our confidential helpline here
Problems with your arms 
People who have problems related to their arms also are eligible for a blue badge. However, this only applies if they are the driver.
If applying for a blue badge on these grounds you will be asked to explain the severe problems you have in both arms. You must explain why you need to drive regularly, or why you have difficulty using parking ticket machines or meters.
What do I need when applying?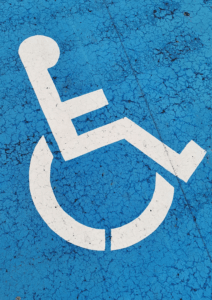 As well as the completed application form you will need also need:
A passport size photo
Proof of your disability
A form of ID
Proof of Address
You can find more information on what is accepted at the government website.
The blue badge costs up to £10 in England, £20 in Scotland and is free in Wales.
Once you've applied 
It might take up to 6-8 weeks for your application to be processed. If you haven't heard back after this time frame you should contact your local council.
As part of the application process, you might be required to take part in a mobility assessment. During this you will be assessed by a health care professional who will watch you carry out a range of mobility activities. They will report back to the council regarding your suitability for the badge.
If your application is refused you can ask your council to reconsider. Details of how to ask for this will be in the decision letter you receive.
The badge usually lasts for up to three years. You will need to renew if you still require a blue badge before your old one expires.
You can find the application to apply or renew your blue badge on the government website.