Disabled Living's 122nd Annual Meeting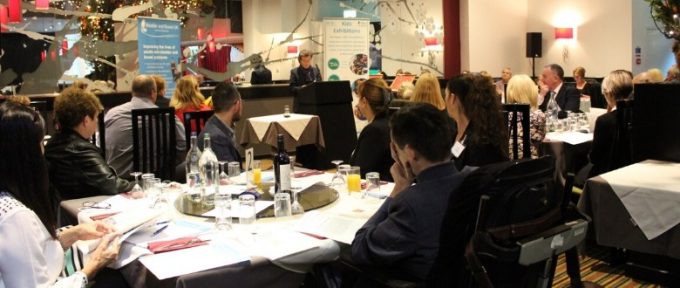 Last month we commemorated Disabled Living's 122nd Annual Meeting at Yang Sing Cathay based at Intu Trafford Centre. Throughout 2018-2019, Disabled Living continued to work together to provide information and advice for disabled people, their families and carers to help them achieve optimum independence and self-determination.
Chief Executive of our charity, Debra Evans, explained that it's been a very busy year for the team, as we continue to develop our services and introduce exciting new partnerships. She added:
"We have so many talented, knowledgeable and experienced staff members who we want to nurture and provide them with the support to continue their ongoing professional development. It is important we have the right staff, sat in the right seats on the 'Disabled Living Bus', in order to be innovative  and remain financially stable."
A few highlights
Available office space at Redbank House resulted in a new client 'WeMindTheGap'. The team got to know the young women involved throughout the duration of the course.
BBUK were pleased to launch their 'Just Can't Wait Cards' – available for people who have a medical condition and need to access a toilet urgently.
Our Disability Awareness trainer, Chris Cammiss, delivered Access Audit training at The Foreign Office.
Kidz to Adultz launched their fabulous Kidz to Adultz Magazine where celebrities have been featured such as Olly Murs.
The development of Disabled Living's monthly newsletters and e-bulletins resulted in an increase of circulation and acknowledgement of how useful the resource is to them.
We were delighted to have Joshua Wintersgill join us at this year's Annual Meeting
Joshua is the Founder and Director of easyTravelSeat. He gave us an insight into growing up with Spinal Muscular Atrophy from 18 months old and being a wheelchair user ever since the age of 10 years old. Using his innovative skills, a couple of years ago, Joshua launched Able Move to make boarding planes easier for disabled people. Since Joshua won the 'Great British Entrepreneur of the Year (South West) Award', he secured a brand license with easyGroup, reforming as easyTravelSeat as it's known today. His work continues to inspire all, and we wish him the best of luck with his aspiration to be a Paralympian in the future.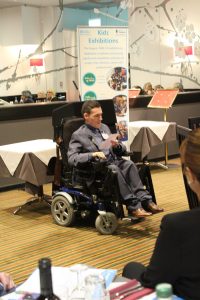 Joshua gave a very moving speech about the challenges of living with a neuromuscular condition but turned them into motivations. We look forward to hearing his seminar at Kidz to Adultz North on Thursday 14th November at EventCity.
Katie recently joined our marketing team, and this was the first Disabled Living Annual Meeting she attended. We asked her what she thought about the event…
"Being new to the charity, it was clear to see that the team and trustees are very passionate about the work they do for Disabled Living. It was great to hear about all the amazing achievements that the charity has been a part of over the year and meet some of the trustees who have helped to make this happen."
We would like to thank all staff, trustees, partners and volunteers who helped us to have another great year, yet again. Also, a big thank you to our President, Kui Man Gerry Yeung OBE DL and his staff for being as welcoming as always at his restaurant. We think the food gets tastier every year!
All of our teams – Equipz, Training, BBUK, Redbank House and Kidz to Adultz Exhibitions are feeling optimistic for the year ahead.
Take a look at this year's Annual Report for more details.