Exploring the British Countryside from a Wheelchair's Seat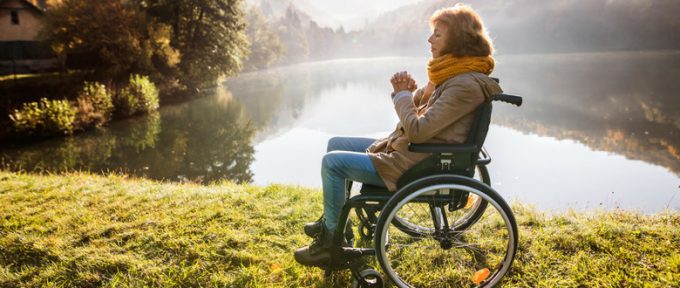 This post has been written by Lucy Wyndham for Disabled Living.
England has a countryside that is both beautiful and accessible. Though many worry about wheelchair accessibility, in recent years numerous innovations have made exploring the British countryside easier than ever. While many have adapted the natural landscape to be easier to navigate, others still have used ponies and other tricks to do the same without damaging the local landscape at all.
From the north
Exploring the natural environments of Britain can mean seeing some of the oldest and grandest historical sites, from the two-thousand-year-old Hadrian's Wall to ancient and Danish architecture along the countryside of Northumberland. The rolling hills and fields of Britain are considered iconic, providing a natural experience that both old and young alike enjoy.
It is no boast to say the natural environments draw many. Film crews for movies as famous as Harry Potter and Downtown Abbey have rented vast swathes of land to place their viewers in a location with an otherworldly atmosphere. In Northumberland, home to Britain's most northern park, tourist information centres offer accessibility information, and all local trains have been adapted for wheelchair accessibility.
Meanwhile, the areas historic value means that many existing buildings offer an excellent look into the area's past, such as the Roman Army Museum. The museum is right next door to Hadrian's Wall itself and provides many opportunities to go outside and explore the local landscape on your own behest to see historical ruins and structures in their native environment.
To the south
Meanwhile, in the South Downs of England, some people have taken an innovative and different approach. To avoid pouring concrete or other nature destroying materials, they've begun offering a service that pulls wheelchair users in chariots designed to take them up even rocky slopes. This gives wheelchair owners access to a nearly one-hundred-mile trail through nature.
Additionally, many beaches from Bournemouth to Brighton offer wheelchair accessible cabins and rental spaces. With the South Downs nearby and the Surrey Hills Area Of Outstanding Beauty just a little bit further away, there are plenty of options for lodgings close to nature and several wonderful places to see in the British countryside.
Next time you consider where to take a nature-themed outing, consider the beautiful British countryside. You may prefer the accessibility provided by non-traditional means of transportation, like the proud ponies of the south, or the more casual accessibility offered by the parks and trains of northern Britain. Both of these and more offer unique ways to ensure that you have few reasons to believe disability can separate you from the great outdoors.
You might also like…
Have you heard of Mobility Solutions? They offer hundreds of mobility aids online and instore.