Disabled Living Host 1950's Tea Dance and Jive The Afternoon Away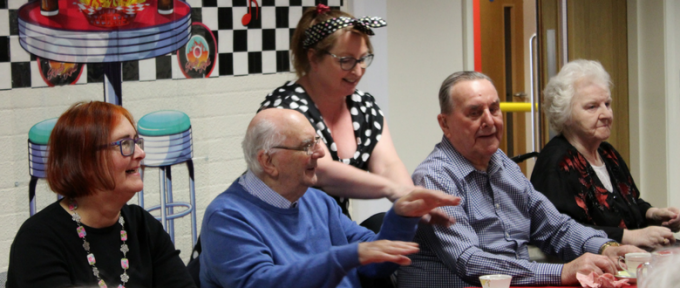 This Story of the Month ties in with our 1950's tea dance that we held for people with dementia and their carers. This was the second tea dance that we have hosted since July and we are pleased to say it was another enjoyable day for all.  On Tuesday 27th February, we were joined by our wonderful volunteers from the League of Jewish Women, guests from Future Directions (service users at Redbank House's multi-sensory rooms), tenants from Bourke Gardens, and other people with dementia and their carers. 
The room was full of 1950's decor including neon food and drink signs, a diner girl and chequered pattern wall, small plastic vinyl discs hanging from the ceiling and much more. Once again, we provided our guests with lots of sandwiches, cake, tea, coffee, and juice. This must be where they got their energy from to sing and dance away! Thanks again to Le Mange Tout for your lovely catering service.
Marylin Snyder recently resigned as a Trustee at Disabled Living after 25 years. She attended our tea dance to support with hospitality, along with her colleagues from the League of Jewish Women.

On behalf of the League of Jewish Women I would like to thank you for an amazing Tuesday afternoon. Walking back to our cars some of  the comments made were:-
I feel guilty, I went to help and ended up having a brilliant time.
I had more fun this afternoon than I had over the weekend!
All the staff made you feel so welcome.
Anytime Disabled Living would like a volunteer, let me know because I would love to help out again.
What gorgeous food and fabulous entertainment.
All I can add to that is if the guests enjoyed themselves only half as much as the volunteers it would have still been a roaring success. Talking to the guests and seeing the looks on their faces how much they were enjoying themselves, you could see that, all your efforts were worthwhile and very much appreciated by them all.
We're absolutely delighted to have received further positive feedback on our tea dance.
Diane Knowles
Thank you so much for yesterday we had a wonderful time. You all go to so much trouble to make it lovely for us all.  The pictures are great and I will show dad them to help him remember. Many thanks, to you all.
Jacqui Woodall
I wanted to thank you and staff/volunteers for a fabulous afternoon and for making us feel so welcome! Myself and our customers really enjoyed ourselves. Your hospitality was second to none and  the entertainment girls were brilliant too.
Seeing everybody smile made our day. We look forward to seeing you all again at our 1960's themed tea dance.