Sensory-Friendly Halloween Costume Ideas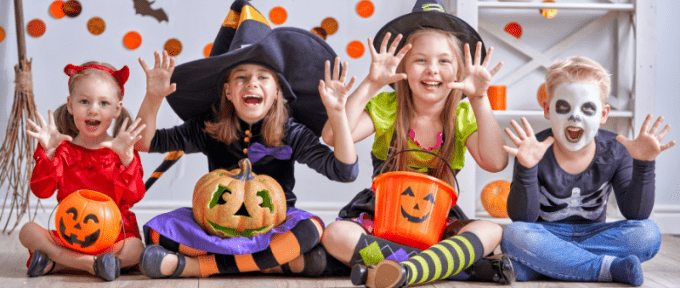 For some individuals, Halloween can pose extra challenges. Although dressing up can often be something to look forward to, itchy seams, tight collars, restrictive masks, or strong-smelling face paint may be unbearable for those with sensory issues. Costumes bought from shops may be particularly uncomfortable. However, making simple sensory-friendly costumes is a great solution for this! Why not get creative this Halloween and check out some of our adaptable, sensory-friendly costume ideas below.
Sweatshirt
Transform a soft sweatshirt, hoodie or jumper into something spectacularly spooky. To create some bat wings, sew some black fabric (an old sheet would be ideal) onto the arms of the sweatshirt and join it to the sides. Additionally, you could take a plain orange jumper and draw a face on it to create a simple yet effective pumpkin costume. Another option is to stuff some old tights or knee-high socks and attach them onto the sleeves of the jumper and stick some googly eyes onto the front to create a scary spider costume.
Pyjamas
Another simple idea that will provide maximum softness for your child is to transform some plain black pyjamas into a spooky skeleton. Simply cut a skeleton template out of a plain white sheet and sew it onto the pyjamas for some custom-made comfort.
Cardboard boxes
If your child would rather have a costume that barely touches them, why not create something that they can hop in and out of as they choose? Cardboard boxes are a versatile option which can provide hours of fun for both you and your child to get creative. Whether you are looking to make a car, plane or horse, the possibilities are endless. If your child is a wheelchair user, this is also a great option for an adaptable costume. For more ideas to inspire your creativity for making an adaptable costume, visit: https://costumes.lovetoknow.com/types-costumes/costumes-that-work-wheelchairs
Alternatively, if there is a specific store-bought Halloween costume that your child has in mind, but you are concerned that it could be uncomfortable, you can always purchase a larger size and layer the costume over comfy, sensory-friendly clothing.
Before your child wears their Halloween costume, suggest that they try it on a couple of weeks beforehand to ensure they are accustomed to the textures and identify any issues they might have. This will give you time to make any amendments prior to their Halloween event.
Visit our Supplier Directory, under the Sensory Toys and Play Equipment category to see what the companies are up to this Halloween! You can also tweet Disabled Living with your own ideas at @disabledliving.