Get Out This Summer – Accessible Parks and Attractions in the UK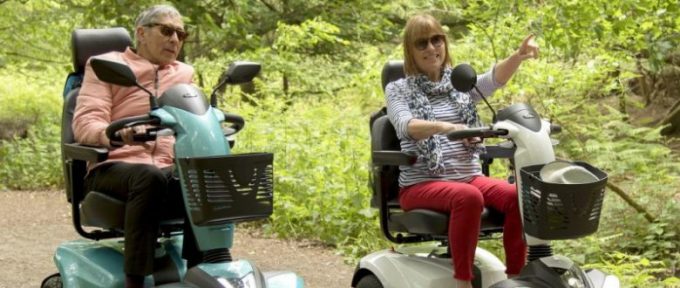 Image courtesy of CareCo – their newest class 3 scooters, the Corvus Rapide and Vega RS8. CareCo share some accessible parks and attractions to visit in the UK.
We are lucky to have so many accessible parks and attractions in the UK, and as by law all public places must be accessible, a comprehensive guide is impossible. But here we share our favourite places that you may not have explored yet – some quirky, some off the beaten track, and some simply spectacular.
So get out for an adventure and explore these tourist attractions without any concern that you'll be left in the sidelines or miss the main event due to access problems. Here we share some great gardens, stately homes and also where to experience the great outdoors.
Botanic Gardens, Sheffield
Robert Marnock designed Sheffield's Botanic Gardens in the Gardenesque style, and they opened in 1836. The 19 acre site has plants from all over the world, with Mediterranean, Asian, American prairie-style, woodland and rock-and-water plantings in different garden areas.
The paths through the gardens are well surfaced and mostly easy to navigate, although there are some steep sections and some places with steps. A map of the garden is available to allow you to plan your visit.
Knebworth House and Gardens
Knebworth is probably most famous for its annual music festival that has seen the likes of The Rolling Stones, Pink Floyd, Led Zeppelin, Queen, Oasis, and Robbie Williams. But for rest of the year it is a stately home of the Lytton family. Only the ground floor is accessible to wheelchairs (mobility scooters are not allowed though) and wheelchair accessible toilets can be found in the gift shop. By arrangement you may park right in front of the house too.
Walking through the Gardens at Knebworth is like entering a romantic dream set in bygone times. The walled garden and rose garden are always a popular choice. There is also a maze and a dinosaur trail, which are great fun if you visit with children. The paths are mostly gravel, but also mostly flat, although there are some areas with steps. As well as the annual music festival there are many events throughout the year.
Queen Elizabeth Olympic Park, London
The London 2012 Games may now seem like a lifetime ago, but the legacy certainly lives on. East London now has the Queen Elizabeth Olympic Park with beautiful parklands and waterways to explore. It has good quality paths throughout and benches every 50m. You can also hire mobility scooters and manual wheelchairs. This is a great place to head to if you live in London and are new to exploring places in a wheelchair or on a mobility scooter.
The New Forest
The New Forest has several accessible attractions to visit. First up is Beaulieu, which is mostly accessible to all visitors, although some parts of listed buildings are not accessible as changes have not been allowed. Beaulieu offers free manual wheelchairs and mobility scooters, on a first come, first served basis. The lower level of Palace House is accessible to wheelchairs, and although there are 2 steps down to the dining area and kitchen shop, staff can take wheelchair users around to a private entrance to gain access. The National Motor Museum, Abbey, and World of Top Gear are accessible.
If you wish to explore a little of the natural New Forest, head to the Blackwater Arboretum trail, which is a 0.9km circular walk. It runs from the car park and through the arboretum where you can see trees from all over the world.
The Lake District
The combination of mountains and lakes may not be an obvious choice, but the Lake District National Park has gone to great efforts to make the area more accessible. It offers "42 Miles Without Stiles" where you'll find well-kept paths with wide gates for easier wheelchair and mobility scooter access. They have 48 routes planned out with start points and directions provided, plus an interactive map. They also provide advice on gradients on each route so you know what to expect, and what areas to avoid. You can purchase all the routes from information centres too.
Stonehenge
This may be an obvious one, but it is amazing how many wheelchair users do not realise that Britain's most famous ancient monument is now accessible. It has ramped access and a paved path running alongside the ruins, along with many disabled parking bays and accessible toilets. They even have an emergency disabled toilet closer to the stones.
So, now you have no excuse for not getting out and exploring some of the great outdoors and history that the UK has to offer. If you are heading to a national park on a mobility scooter or powerchair, it is wise to ensure that your battery is fully charged in advance, and to carry a backup battery too, just in case. Climbing hills will burn through the battery faster than usual, so always be prepared.
This post has been written by Jon Wade on behalf of CareCo. Visit CareCo's page on the Disabled Living Supplier Directory.