Supporting Your Disabled Colleagues in the Workplace and During Covid-19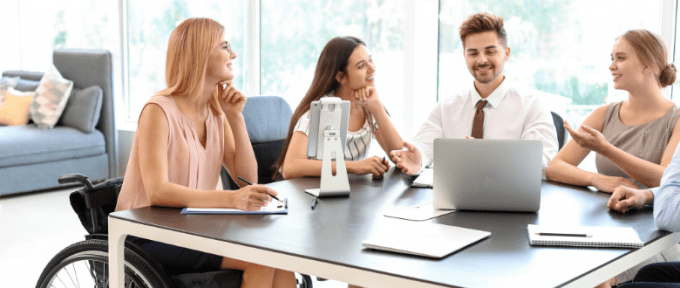 Sponsored post sent to Disabled Living by Minton Morrill.
This blog article will take you through some of the ways you can support your disabled colleagues in the workplace and through the current Covid-19 pandemic.
Whether it be a congenital disability from birth, something that's been brought on by a spinal injury, or a condition that's developed over time, disabilities are important to learn about. Here are some tips for ways you can make your workplace more inclusive…
Top Tips for Supporting Your Disabled Colleagues in the Workplace
1. Educate Yourself
First and foremost, educating yourself is key. This can come from trying to learn more about the condition your co-worker has. You could do this through online research, or simply by asking them questions.
Just be mindful when doing so; I'm sure your disabled co-worker will be happy to answer your questions, but don't fixate on it. Once you've asked your questions, move on to something you'd discuss with any other colleague.
2. Explain Things That May Seem Obvious
When it comes to co-workers with additional needs, like autism, it may take them a little longer to get to grips with their new surroundings. So, anything that may seem obvious to you, like where to put your lunch, or where to keep your mug, may not be clear to others. To tackle this, when giving the office tour, be sure to show your new colleague everything there is to see along the way.
3. Speak Up for Your Colleague
If you notice any discrimination within the workplace, including bullying or exclusion, making sure to speak up is so important. You should also report this to your line manager.
4. Be Aware of the Language and Terminology You Use
The language you use to interact with or discuss disabled people must be taken into consideration, to ensure inclusivity. Some important ways to talk about or address your disabled colleagues inside and out of work could include:
Mention the person first, and the disability second, e.g. Maria, who is blind.
Negative words should be avoided, for example 'afflicted', 'ailment', 'bound', and 'confined'.
Talk about 'disabled people', not 'the disabled', as people with disabilities are individuals, and shouldn't be lumped under this collective term.
Don't patronise the individual.
5. Don't be Afraid to Offer Assistance
If you can see your disabled co-worker struggling with something, be it work related or general accessibility, don't be afraid to help. Just make sure to ask if they need your help in the first place, so you can make sure it isn't unwanted. It may take them a little longer to do things, but that doesn't mean they can't do it. With this in mind, don't rush your colleague with anything they do.
6. Make Out of Hours Time Accessible
Wanting to get everyone together to do an out-of-work activity? Then and try and ensure wherever you're going is accessible. This is a thoughtful way to let your disabled colleagues know that you want them involved. By thinking that extra little bit about where you go for lunch, drinks, or activities after work, this is not only inclusive, but kind too.
7. Communicate
Open communication is the key to any relationship, and this is especially poignant with your disabled friends and colleagues. If you have any questions, ask them. If you're wondering what's holding them up with a certain piece of work, mention it.
How Can You Provide Extra Support for Disabled Colleagues During COVID-19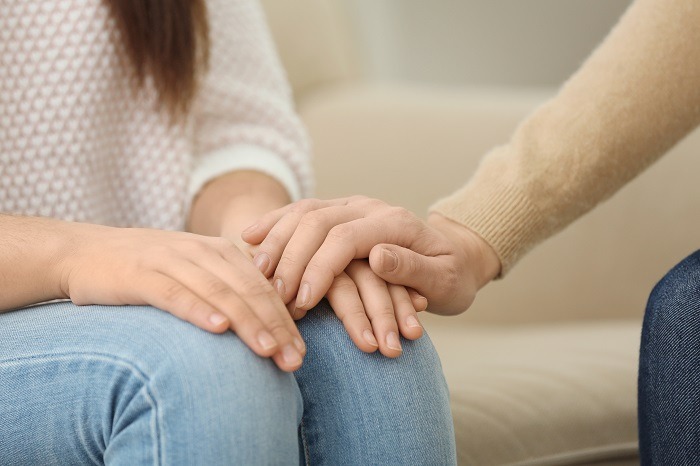 Covid-19 has put a real spanner in the works for many people, especially for disabled people, who have been advised to remain housebound, just like the elderly. In many cases, your co-workers may also be your friends. With this in mind, we all want to do everything we can to support one another through these times. So, how can you go that extra mile for your disabled colleagues and friends?
Physical Support for Disabled Co-Workers
Disabled people can be more at risk than others, so may need more help around the house. What's more, if their usual support network, for example parents, friends or carers, cannot leave their own homes, they may require a bit of extra support. Some great ways you could help your disabled co-workers during lockdown could include:
Offering to collect their groceries for them;
Seeing if they need any help with accessing medical care and/or medication;
Picking up protective equipment, like masks, soap, and hand sanitiser;
In all these cases, it's important that you make sure to follow government guidelines on social interaction. This always includes taking precautions to avoid contact with the person and remaining two metres apart. So, to tackle this, make sure to pass groceries, medication etc. without touching one another.
Mental Support for Disabled Colleagues
Supporting one another mentally should also be a priority, whether your friends and colleagues are disabled or not. As humans, we are so used to making social contact with people day in and day out. Ensuring to remain in contact with all your colleagues is so important. Whether it be by text message, email, or video chat, picking up the phone or laptop for a chat here and there certainly won't go amiss.
Do you have any tips and advice you'd like to share for supporting your disabled colleagues? Send your comments further below or follow.