Amelia Found Her Perfect Pink Wheelchair with Yorkshire Care Equipment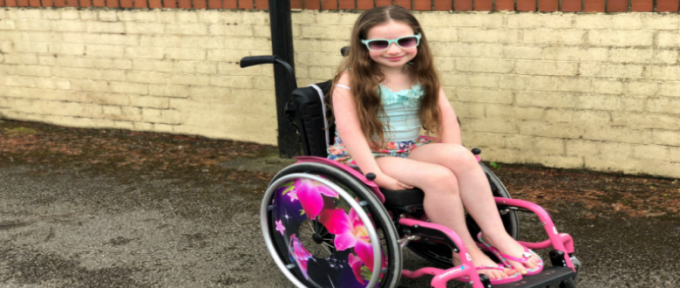 This post has been written by Yorkshire Care Equipment. Amelia is a nine-year-old girl from Knaresborough, North Yorkshire. She came to our showroom in her old, NHS supplied wheelchair that she'd had since she was five. It was oversized and clunky, and it was too heavy for Amelia to push herself in. Unfortunately, the NHS couldn't offer her anything better so Amelia took matters into her own hands.
Amelia and her family took a trip to our Yorkshire Care Equipment  showroom in Harrogate just to see if we were able to offer her any other wheelchairs that might suit her better. Our showroom advisor Gary got to work straight away and began working through a standard wheelchair prescription form with Amelia and her family.
Gary determined that she needed a wheelchair that would be a better physical fit for her, and it needed to be lightweight enough for her to self-propel. She also wanted the wheelchair to look nicer; Amelia wanted it to be bright pink.
Gary, our showroom advisor, said:
When I first met Amelia and her family, it was pretty obvious that her wheelchair just wasn't right for her anymore. We sat together and did a sort of wish list of things she could have in her new wheelchair, and then we set to work arranging it all.

We chose the Zippie Youngster 3 wheelchair which is a lot lighter for her to push, and we made sure it could be supplied in pink. We also put integrated brake levers in the wheel arches to make it easier for Amelia to stop with little effort.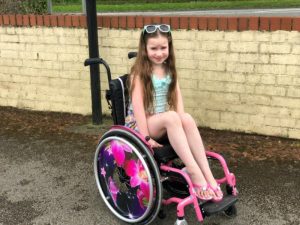 She chose a flamingo pink glitter finish for the chair and added some light-up flashing castor wheels on the front for extra personalisation – it's by far one of the most unique wheelchairs we've ever supplied!
We also included a comfy seat cushion and a specifically adapted SmartDrive powered add-on for the chair. Amelia can control the SmartDrive all through her wristband, and it will give her a helping hand pushing her wheelchair along whenever she needs the extra boost.
Lisa, Amelia's Mum, said:
Amelia loves her new wheelchair because it's so lightweight, she can push it herself. It's a joy to see her in it!

We went to Yorkshire Care Equipment because they're local and it's important to support the community. They were incredibly helpful and really did pull out all the stops to make sure my daughter's wheelchair was exactly as she wanted it to be.
Yorkshire Care Equipment have a charity database that they give to clients whenever they need to raise funding for specialist equipment. However, Amelia's family had already secured funds from The Lions Club of Knaresborough, the Rotary Club of Knaresborough, the NewLife Charity, and a private donor.
Between the bright pink frame, light up wheels, and the flowery spoke covers, Amelia will be easy to spot wherever she goes! Check out the video below of her taking her new chair for a spin.