Remap Volunteers Design and Make Bespoke Equipment for Individuals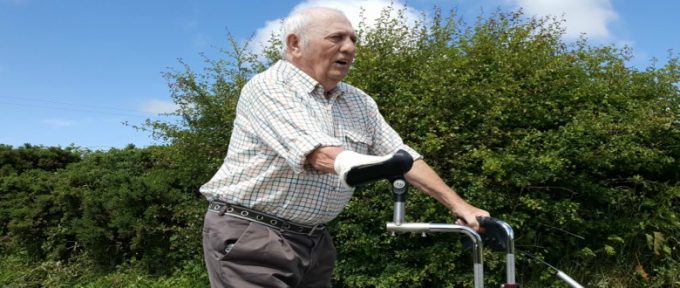 Remap is a charity that helps disabled people achieve greater independence and quality of life. It has a network of skilled volunteers who design and make bespoke equipment for individuals and provide this free of charge. So in any situation where you can't find the right gadget, contact Remap! Here are a couple of examples of recent projects.
Eilian needs to use a three-wheeled rollator to get out and about. Having an amputation however, creates an extra challenge, as he can't safely use the rollator with one hand.
Remap volunteer Martin Rees modified the rollator for Eilian. First the brakes were modified so they could be operated from one hand. Then a cup-type receptacle was made to accept his residual limb. This was made from 3D printed plastic parts and a metal bracket that fits onto the rollator. The finished cup was lined with felt to make it comfy.
Jan Costa, the Occupational Therapist who referred the case says:
I have had previous experience working with Remap and although I knew what I wanted, it was not commercially available.  The Remap volunteer converted my concept and idea into a fully functional design and produced the item. The provision of the adapted braking system and single handed propulsion enabled the patient to mobilise safely with a three wheeled walker and reduces the risk of falls.

We occasionally have difficult issues like this, when one off items are the solution. Remap have helped on more than one occasion. My advice is that if you know what you want but cannot source it contact Remap. They can advise you and can also design solutions just for your patient. Give them a ring!
A very different request came from the Parochial Church Council of St. Peter's Church, Wootton Wawen – the oldest church in Warwickshire.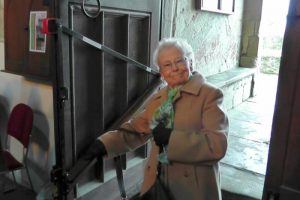 The church has large inward-opening oak doors, which lead directly onto two large descending stone steps. But there is no handrail. The congregation includes many elderly people – could Remap supply some device or other to make it easier to negotiate the steps?
Some sort of handrail was the only feasible solution. But there was a big catch: no part of the church or doors could be modified in any way, and it was forbidden to drill holes into anything! Whatever was supplied had to be quick and easy to install and remove, and, above all, had to be really stable and secure, with no possibility of coming loose and causing an accident.
Remap volunteer Gary made a handrail built into a collapsible A-frame. Before the start of each service, the doors are opened and the handrail fitted. The congregation then enters the church with more confidence because of the handrail. After the service the device is removed and stored inside the church.
For over 50 years, Remap has helped thousands of disabled people to live more independently. It has a network of over 70 groups across England and Wales, so there is probably help near you. For more information, visit the Remap website or phone the national office on 01732 760209.