New Micro WashPod Will Help People Stay Safe at Home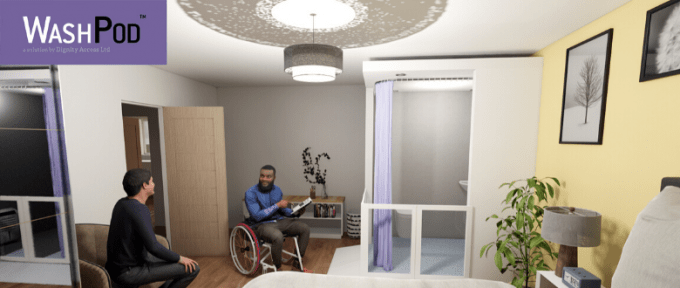 This is a guest blog by WashPod who feature in Disabled Living's Supplier Directory.
The new Micro WashPod mobile, disabled wetroom has been launched as the smallest to join the range of WashPod models that offer bathing solutions to hire for those who have mobility issues but wish to stay in their own home, be they elderly or disabled.
The Micro WashPod is a unique solution to bathing and has been specially designed for limited spaces, fitting internally into a reception room or bedroom. It's fabulously quick to install and can be fitted in less than a day. It will be the answer for many people needing at-home, disabled bathing where space is at a premium and where extra room for carers, hoists and trollies may not be needed.
Benefits include:
Absolute minimum space required
Versatile and quick to install (less than a day)
Plug and play, no need for existing plumbing connections
Minimum disruption
Hired or bought direct or through our distributors
The Micro WashPod has great versatility. By adding a platform, the Micro WashPod can gain a wheelchair turning circle. With tight installations, the ramp can also be removed on one side to give extra space. In addition, the panels can be configured to accommodate different orientations.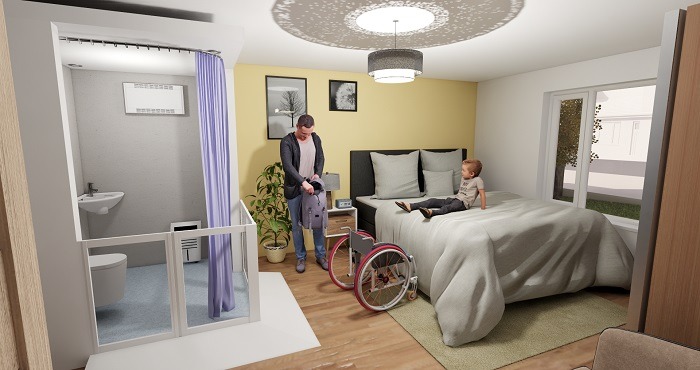 Notes
If access to the bathroom is now impossible, the WashPod range of disabled washrooms is the perfect interim solution saving the option of prolonged hospital care or an early move to an expensive care home. There is nothing like it on the market.
In addition to the Micro, there is a standard External WashPod that can be installed in the garden or on a patio and two other internal models – the Standard and the Mini – that can be erected in a spare reception room or garage.
Additional applications are numerous from Housing Associations and Local Authorities who may wish to buy them and lease them out to residents as needed, or hospitals during building works, and commercial enterprises wishing to provide accessible washrooms.
The WashPods are plug 'n play and fully fitted to comply with the highest specification of part M of the building regulations. They have been devised by architects who specialise in the designing for disability and endorsed by occupational therapists and case managers.
Typical facilities include accessible shower facility, basin and WC. External units include underfloor heating. Hoisting for transfer purposes can also be provided where needed.
Both internal (with a mini version too) and external options give a disabled person dignity until more suitable arrangements can be made, without significant disruption and stress to the family home.
External Washpods are usually erected within 2 to 3 days and can include a covered link to an external patio or back door. Internal Washpods can take only a day to install. The units are constructed off site and re-assembled in the home by an expert team.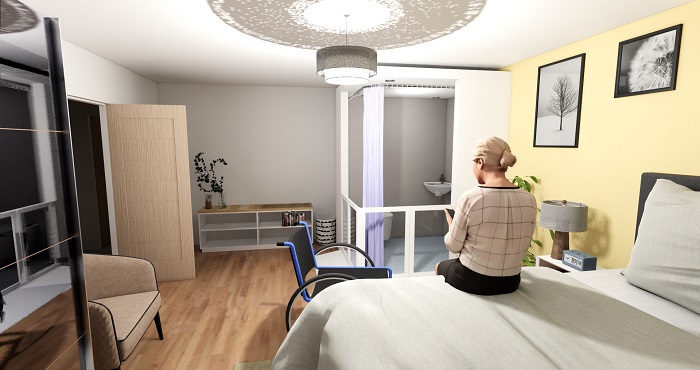 Benefits
Out of hospital faster (thus releasing a hospital bed)
Immediate return to (or ability to remain in) family/familiar surrounding
No permanent alteration to the property
Pods can be removed easily and the property reinstated very quickly
Short period from order to installation
Independence and dignity for user
No reduction in house value
Minimum disruption
Fraction of the cost compared to care home provision.
The WashPod range is being manufactured and marketed by Dignity Access which is a sister company to Cowan Architects, specialists in disability adaptations and inclusive living design.
More information
For more information, please contact Joanna Sale in Marketing, on 07717 425694, email: joannasale@cowan-architects.co.uk or visit the Dignity Access website.
---
Did you know… Disabled Living are featured in the Top 10 UK Disability Blogs? For the chance to have your news/story published on our blog please send an email to: info@disabledliving.co.uk