From Donkeys to Innovators: 120 Years of Disabled Living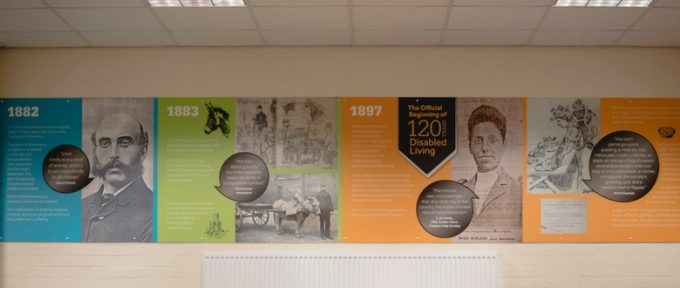 We are delighted to announce that our 'From Donkeys to Innovators: 120 Years of Disabled Living' exhibition is officially open at Redbank House. We would like to invite you to come along to our public open days for From Donkeys to Innovators on Friday 13th April, Monday 16th April and Tuesday 17th April, 10.00am until 3.00pm. 
A project discovering independence and innovation
With the support of a Heritage Lottery Fund grant, we embarked on a number of projects to capture the charity's heritage, ensure our archive material will be safe for future years and raise the profile of the organisation. The Lord Mayor of Manchester and the Ceremonial Mayor of the City of Salford raised a toast to Disabled Living in officially opening the launch of our exhibition.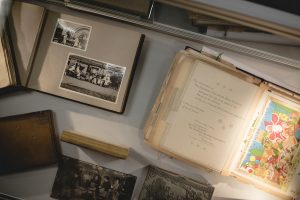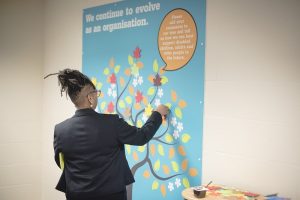 The exhibition comprises a timeline highlighting our heritage, together with the opportunity to view some of our archived materials. It celebrates 120 years of independence and innovation by our charity. Ana Osborne from the Heritage Lottery Fund and Kui Man Gerry Yeung OBE DL, President of Disabled Living, also gave a speech.
We encouraged people to write their ideas for the future on our Innovation Tree. It was great to see many guests adding their ideas on the colourful leaves.
From Donkeys to Innovators film
Throughout the year, we've made a series of short films primarily about the services we have provided. Another film was produced by young people with disabilities and additional needs. They interviewed older people and discussed their aspirations for the future.
Chief Executive, Debra Evans: There are incredible stories from individuals both past and present, which up until now have remained untold or largely unheard.
Cherylee Houston from Coronation Street worked with the young people during their filming adventure.
See links below for our From Donkeys to Innovators films
Building on early ideas
Expanding and innovating
How it all began
Young people's film
Oral history interviews
We also interviewed a number of people who shared their memories of our charity. These oral history interviews are available to listen to and share via our SoundCloud. The interviewees include Selma Fielding, Karen Mercer, June Stanbridge, Dr Peter Mohr FRCP, Barbara St John and our Chief Executive Debra Evans.
Thank you to everyone who has played a part in our heritage project, it wouldn't have been possible without you! For further information and open days please contact Redbank House on 0161 214 5959. 
More information about our history can be found here.