Edward Gosling: An Inspiring Disabled Artist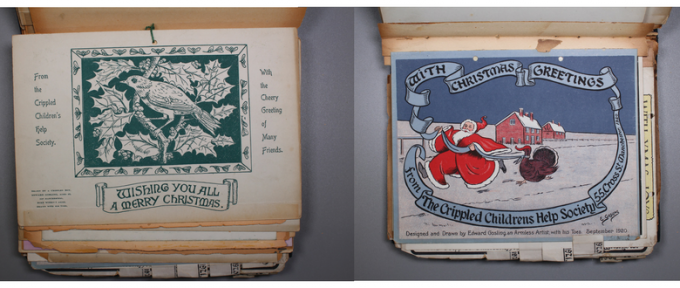 We are so excited to share this little bit of hidden history with you! As we've mentioned before, this month is Disability History Month and its focus is the arts in disabled histories. On our #DonkeysToInnovators archive and heritage project, we are obsessed with our beautiful Christmas card collection. Read about the stories behind them on this blog for more information. But for now, we want to introduce you a wonderful young man, Edward Gosling.
A disabled artist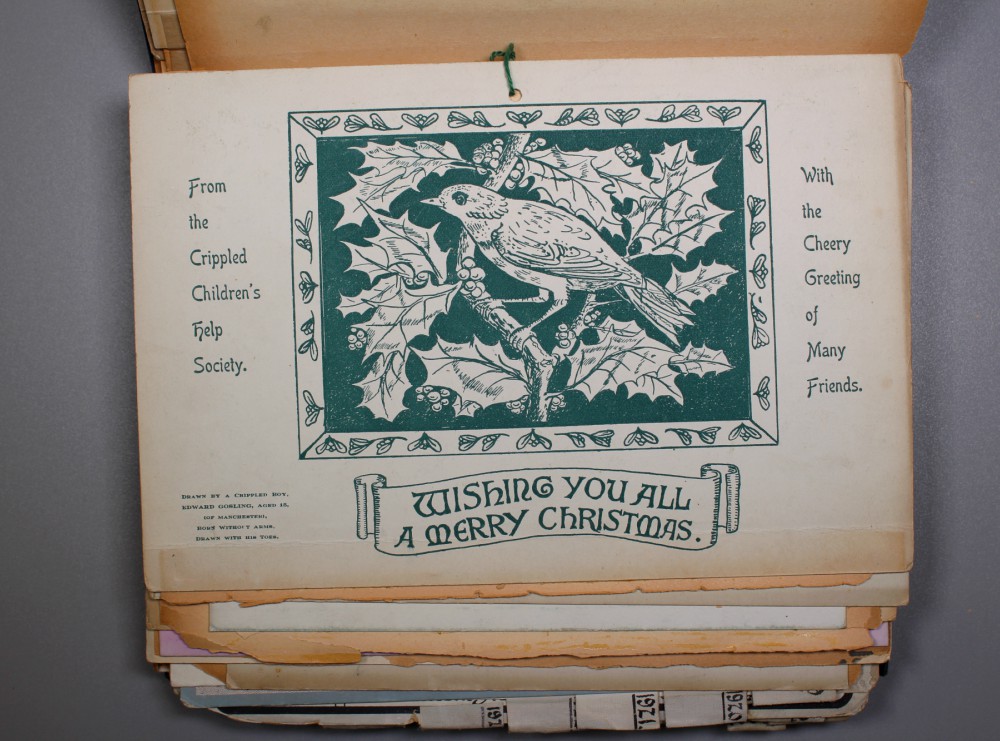 Gosling was an artist who designed a number of our Christmas cards back in 1910 when he was just 15 and again in 1920. Not many artists are fully credited on the cards but the lovely dedication to Gosling is fascinating. On his gorgeous winter bird and holly design, it reads,
Drawn by a crippled boy, Edward Gosling, aged 15 (of Manchester), boy without arms, drawn with his toes.
It is likely that, due to his age, he was a member of the society or otherwise accessed its services. Disabled Living, or the Crippled Children's Help Society as we were known then, not only supported children and young people living with disability but encouraged crafts, arts and skills in its service users.
1920's colours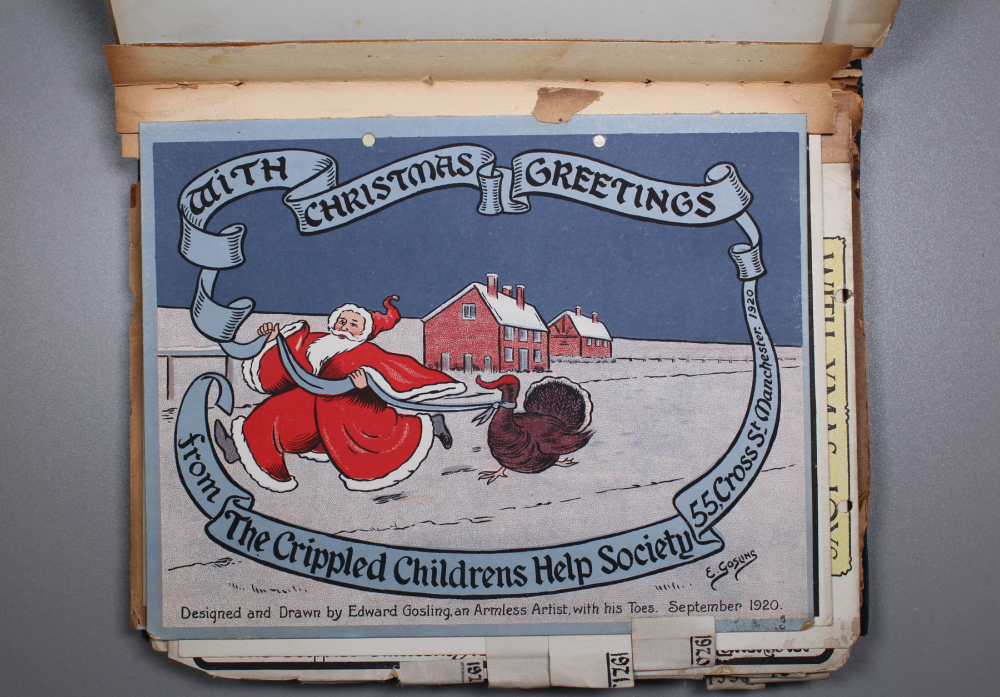 The change in design between 1910 and 1920 are quite striking. 1910 sees a mono-coloured traditional design, almost Victorian in its simplicity and humbleness. The 1920 design, in contrast, sees bold and bright colours, vitality and humour.
Perhaps in 1910 we see a developing artist, a 15 year old boy finding his style and wanting to keep his commission simple and pleasing. Then in 1920, this 25-year-old man is a talented artist, playing with themes and confidently expressing style. Could it also be that the vitality of post-war 1920 is bursting through, still being shared with the young children who will receive this card along with their hamper?
This card is even signed by Gosling in gorgeous stylised script.
The artist
Sadly, we don't know much more about him. He is credited to a beautifully warm painting of The Ruskin School in Lynn, Norfolk. Perhaps he moved down there? Perhaps he visited and painted? Perhaps he was commissioned? Unfortunately we don't know.
If you have any information about this disabled artist, we would love to hear from you. Send us a message on Facebook or Twitter.
Thank you to Heather Roberts for writing this post. You can find her blog here.