6 Somna Products That Could Benefit You

We were pleased to welcome Jan from Sensory Kraft to our premises on Wednesday 19 July. Jan's background involves marketing in a multi-sensory environment so we were very much looking forward to hearing about how Somna products benefit people, in particular those with sensory needs.
Information about Somna
Somna are a Swedish company who develop and provide research for cognitive products. They have many retailers across the world including: Sensory Calm, Sensory Bound, and O Neill Healthcare Ltd.
Somna products are available to the public.
Here is some research which has been shared by Somna and Sensory Kraft:
Insomnia is a common occurrence in today's society and can have a negative impact on physiological and psychological and social well-being. There is therefore a need for simple, effective solutions to increase sleep quality. – Ackerley R, Badre G, Olausson H (2015), Positive Side Effects of a Weighted Blanket on Insomnia. J Sleep Med Disord 2(3): 1022
"Carrying out their research, they found that, the awareness of the body's boundaries combined with oxycontin often had an anxiolytic effect on the participants." – Björkdahl, A. (2015)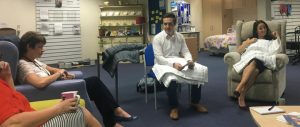 About the products
Weighted Gillet
To begin, we were presented with a child's weighted gillet. This product is available in kids and adults sizes in a choice of 4 different colours for both male and females.
Afterwards, we were presented with products where members of staff began to feel more involved to try out the products (as the child's gillet was too small to try on but we did get to feel the texture and weight of this item).
Somna Comforter Heavy Duty
This product is heavier than the regular Somna Comforter. Weighing 15kg, its deep grey fabric is strong and easy to maintain keeping it clean. The zips allow the comforter to be opened so that it can be split into two parts making it easier for washing.
Somna Comforter
Jan explained that, the Somna Comforter Heavy Duty is able to warm and cool the body accordingly. The deep pressure therapy allows a relaxing sensation and these can easily be stored in our living rooms. They are available in different sizes (4, 5, and 7) and are really beneficial for people who suffer from insomnia. The Somna Comforter is smaller than the Heavy Duty. It can be used on your lap or to wrap around your shoulders.
Somna Blanket
This Somna Blanket comes with a wash bag and washing instructions. This product provides a sense of safety and comfort. It is guaranteed to give you a relaxing, peaceful night's sleep.
Somna Comforter Active
This product lies on your lap. Jan said:
The Somna Comforter Active has received brilliant feedback especially with its pocket feature.
Somna Collar
This product goes around your neck. We learnt that the Somna Collar can increase body awareness and improve posture.
Angela, from Disabled Living said:
This reduces my neck pain from when I've been at my desk.
All of Somna's products are available to view on their website.