6 Accessible Travel Hacks for Wheelchair Users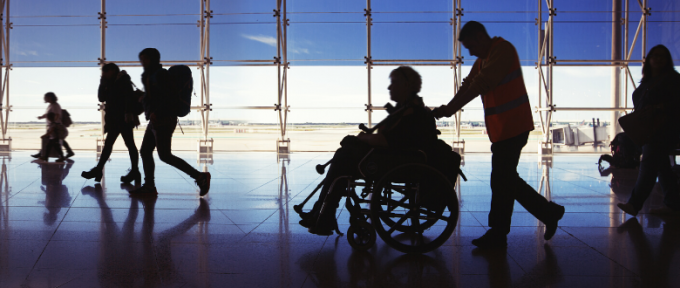 This blog post has been written by Stuart on behalf of My Baggage for Disabled Living.
Finding accessible travel options as a wheelchair user can sometimes be frustrating and difficult. It's impossible to prepare for every situation. All you can do is try and prepare as much as possible and give yourself a break, this is your holiday after all! We've put together six accessible travel tips to help ensure your trip goes as smoothly as possible.
Before you book your flight
It's important to ensure that the airline you are travelling with has comprehensive information for passengers who are wheelchair users. Each airline policy will differ and if you are flying outside the EU you may not be covered by disability laws. Some airlines will have restrictions on the size of electric wheelchairs, so when in doubt always contact their customer services.
If you need assistance both on and off the aircraft when you are booking your flight, tick the airport assistance checkbox. Every airport will have this service available, but the service will differ. When choosing your seat, some wheelchair users prefer the window seat to the aisle, as anyone requesting special assistance is boarded first onto the plane. Remember that this also means you will be the last to leave the plane as you will have to wait for airport assistance. This is important if you have an onward flight to catch, so always allow for this delay when booking long-haul or connecting flights.
Avoiding wheelchair damage
Your wheelchair is an important part of your mobility and the last thing you want is to discover it has been damaged in transit. One way to try and protect your wheelchair is to include written instructions attached to it, explaining how to break it down and how the chair lifts and tilts. A fragile sticker also goes a long way. Before you hand your wheelchair over, remember to remove any parts that can be removed such as the seat pad, footrest or wheels. You will be able to carry these items on board the plane and they will not count towards your hand luggage.
To always protect yourself, take photographs of your wheelchair prior to handing it over to airport staff. This way, in the rare occasion that your chair is damaged, you have before images. If the worst does happen and your wheelchair is damaged, take images immediately and include them, alongside the before journey images and contact your airline's customer service team as soon as possible.
Accessible bathroom issues
This is a real problem for wheelchair users when flying. Most domestic, short-haul flights will not have an accessible toilet available or an aisle wide enough to accommodate a wheelchair. Before booking a flight, confirm whether they have an on-board wheelchair or an accessible bathroom. This will usually only be available on long-haul flights or on bigger aircraft, but every airline will have its own policy. It's important to remember that air stewards will not assist in transferring you into the bathroom but will be able to push your wheelchair. When in doubt confirm with your airline or with special assistance at the airport prior to departure. Accessing accessible bathrooms is a real struggle for wheelchair users no matter what mode of transport. To learn more about this, there is a great blog called Wheelchair Travel, which outlines what airlines cater to wheelchair users.
Luggage shipping
Travelling through the terminal with your luggage whilst in your wheelchair can be incredibly stressful. A popular way to combat this is through shipping your luggage directly to your destination. This will mean you will not have to navigate the airport with your suitcase in tow or worry about making it in time to the arrival's carousel. Luggage shipping is very easy, all you have to do is arrange for a courier company to collect your items from your home and ship it to your forwarding address where you will spend your holiday, leaving you one less thing to worry about. One concern is the cost, but luggage shipping can often work out cheaper than the cost to store your luggage in the hold.
Finding accessible accommodation
Finding accessible accommodation has gotten a lot easier thanks to many hotel comparison sites like booking.com and hotels.com. These websites give wheelchair users the option to search for a place that is wheelchair friendly. Enable this option so you can ensure that the room you pick is entirely accessible. When in doubt you can contact the hotel directly or when booking via a comparison website, you can add this request in the booking requests option.
Accessible activities
Once you arrive at your destination and check into your accessible hotel, the next hurdle can be finding accessible activities to enjoy. Many destinations will have a dedicated tourist website which will cover facilities and tourist sites that are fully accessible. They will also provide information on accessible transport to reach these sites and any further information you may require to put your mind at ease. Websites like VisitEngland and Accessible Travel Netherlands offer advice and information for wheelchair users.
If you don't want to go on an independent holiday, there are plenty of tours, cruises and package holidays that cater and provide accessible activities. An example is a Responsible Travel, who offer responsible adventure holidays which are also accessible. You can go on a trip to explore the wonders of Ancient Egypt, enjoy an island resort stay on the luxurious Maldives or even go in search of mountain gorillas in Rwanda. The world is your oyster and there are many destinations and tour operators out there who will cater to a variety of needs and ensure you have the holiday of your dreams.
Destinations that are wheelchair accessible
When deciding where to go, you might wonder what destination will even be able to cater for you and your wheelchair. To help inspire you, the following destinations are wheelchair accessible; Lisbon, Amsterdam, Krakow, Israel, Ecuador, Morocco, South Africa, Slovenia, Barbados and Dubai.
Although there may currently be extra travel restrictions due to COVID-19, travelling is still possible. Make sure to check how to travel responsibly before you set off in Love Holidays' COVID-19 Tourism Travel Guide.