An Exciting Year Ahead for Changing Places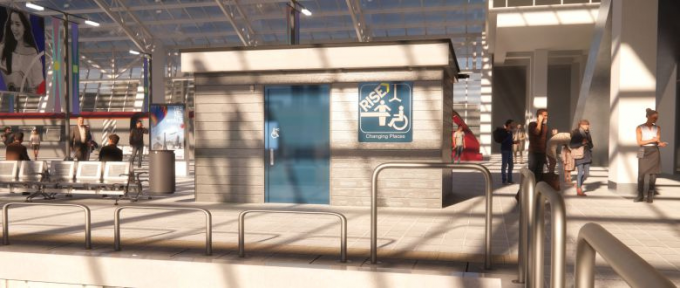 This is a guest blog by Rise Adaptations for Disabled Living.
The campaign for an increased number of Changing Places toilets to be installed across the UK looks set to have a great year, following on from several key campaign successes in 2020.
Changing Places toilets are a much-needed facilities for people whose needs can't be met by standard accessible toilets. Featuring adult-sized changing benches, these remarkable bathrooms are the difference between someone with severe disabilities being able to enjoy a day out, or never having the chance to participate in activities many take for granted.
For people with complex disabilities, the lack of suitable bathrooms has long been an issue – there are many accounts of people sacrificing their dignity and privacy having to be changed on the floor of public bathrooms. They enable so many more people to participate in society in a dignified and humane way.
Founded in 2006 the campaign has so far had great success increasing both awareness of the issue and the number of facilities.
There are now over 1,500 registered Changing Places across the UK, but 2020 saw two huge announcements regarding funding and legislation which are set to take effect this year, making a difference to the lives of so many.
New Year, New Regulations
One of the most exciting developments for Changing Places – and a major win for disability campaigners – are the changes scheduled to be made to Building Regulations.
The amendments made to Approved Document Part M, Volume 2, non-domestic buildings, effective now, mandate the inclusion of a Changing Places toilet in specific types of new buildings and buildings undertaking major refurbishment.
After a consultation process with campaigners and users alike, the Government ruled that the previous regulations, which only mentioned a Changing Places toilet as 'desirable', were not sufficient to meet the needs of the most vulnerable.
Although existing spaces can be adapted to include a Changing Places toilet, the mandatory inclusion of these bathrooms in Building Regulations mean new buildings and attractions will be inclusive of those with severe disabilities, right from the start.
The amendments to Approved Document Part M mean a Changing Places toilet must be installed in newly built assembly, recreation, and entertainment buildings with a capacity for 350 or more people, shopping centres, leisure centres, and hospitals.
'Assembly, recreation, and entertainment buildings' includes a wide variety of venues including cinemas, museums, and educational facilities such as colleges.
Options for Existing Buildings
The new regulations are greatly welcome and will change the way public spaces are designed to include those with greater needs. But what are the options for existing buildings?
Most Changing Places toilets are either modular buildings or adapted spaces – the modular option being particularly popular in outdoor locations, such as theme parks and zoos.
Modular Changing Places providing a safe, hygienic space for visitors to attractions that previously had no provisions. Built offsite and craned into position, modular toilets typically come fully equipped with adult-size changing bench, hoist, and enough space for a user, plus two carers.
For buildings with the required internal space (12m2), internal adaptions can also be carried out as turnkey service, with both the building work and installation of specialist equipment delivered simultaneously.
Funding
Historically, the issue most businesses have encountered when it comes to installing a Changing Places toilet is the financial implication. Costs can be prohibitive for many organisations, particularly public bodies, and charitable organisations. Many existing Changing Places toilets have been installed through a mixture of public fundraising and ad-hoc grants.
The Government did fund some installations last year across NHS properties and motorway service stations but went further on their promise to do more by pledging an additional £30 million for Changing Places in the 2020/21 budget.
It is yet to be seen how and where this budget will be allocated, but it guarantees a new period of expansion for Changing Places this year thanks to the additional funding businesses will be able to apply for.
To learn more about the campaign and see how you can help, please visit the Changing Places Consortium. For further information about design and installation, please visit riseadapt.co.uk