Help 14 Year Old Ben with Cerebral Palsy to Become a YouTube Star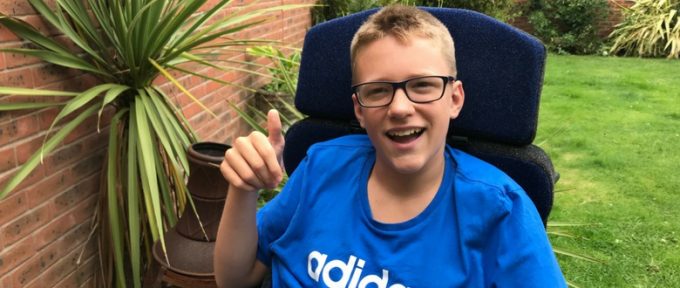 This Story of the Month has been written by Ben, a 14 year old boy with Quadriplegic Cerebral Palsy from Malvern in Worcestershire. He has recently started his own YouTube channel and would love to be a big YouTube star.
I enjoy four-a-side wheelchair football, which I play once a month at Villa Park in Birmingham. I really love making content for my YouTube channel, which I have started recently with my tutor Sarah. I like my food – particularly cakes and chocolate – and I love going out with my family, seeing my Nan and generally being sociable.
I was first diagnosed with Quadriplegic Cerebral Palsy when I was a month old. At first, the doctors thought I wouldn't ever be able to feed myself or even talk. I surprised everyone when I started to talk! My mum, dad and I have worked really hard to get me to where I am today. I'm semi-independent and can do lots of things that other teenagers do such as going shopping, playing video games, some reading and I am even writing my own book!
What inspired you to create your own YouTube channel?
I wanted to get my message out there. Nothing is impossible if you try hard enough. I record quality content for my channel around every two weeks about various subjects that are important to me. I want people to know that if I can do it, so can they. I have overcome so many obstacles in my life: people thought I wouldn't be able to talk, but now I talk to give a positive message to others. I watched other YouTubers talking about the things that they're passionate about and I wanted to do the same. I've got nearly 100 subscribers now but my goal is to get 10,000 subscribers by the end of 2019. I think I can do it! I'd love readers to check out my channel and subscribe: just search Ben Gannon (not the cyclist!).
What's the biggest challenge you've faced as someone with Cerebral Palsy?
Sometimes I can feel quite down. I can get frustrated at school if I have a hard day and everything can feel like a roller coaster. I have felt really good lately as my YouTube channel is going well and I'm enjoying making content. My cerebral palsy affects my arms and legs so I have help to do lots of tasks like getting dressed and going to bed. But I have some really good equipment such as my chair and my lift – which I have just reviewed on my latest YouTube video! – And this means I can do a lot more for myself, which is great.
What do you love most about Ben? (for Mum)
Ben always puts 100 % in to everything he does. He doesn't moan (only when the chocolate supplies are low) but he is genuinely a gorgeous lad. Ben loves his family and he is the most relaxed and happiest when surrounded by familiar people. Ben loves a bit of banter and will take the mick out of me regularly. He is always willing to tell people my embarrassing moments, that's not what I love about him, but he is very funny. The characters he has used in his book shows his sense of humour, such as the seagull that tweets on twitter all day. He is such a role model for other kids. I love that he his enjoying the YouTube channel, we are keen for him to have an impact of others and have something of meaning to do with his life.
Do you have any YouTube idols that you look up to?
I love watching Jacksepticeye videos because he promotes a positive mental attitude and reviews video games – both of which are close to my heart! He also has 20 million subscribers, which is something I aspire to have! I also like PewDiePie, who makes really funny videos and has even more subscribers – he has 65 million! Sumara Redway is another favourite because she makes really cool, genuine gaming videos. I watch a lot of Typical Gamer's videos too as he is funny and makes good Fortnite videos.
Can you tell us about 3 things that make you smile? Or the things you're most grateful for?
I am grateful for life and because I am happy. Making videos makes me happy. I have fun doing it and love to share my message with other people. I love to read the comments people make on my videos and to engage with viewers. People have left really genuine comments and have said that my videos make them smile, which really makes me smile!
Is there anything else you'd like to share?
I decided in December that I wanted to learn to read better mainly because I wanted to text my friends and read my messages from them. I'd been covering up the fact that my reading wasn't great for quite a number of years and had been guessing words and lip reading instead of reading the actual words. I decided to get a tutor and immediately I made loads of progress. We were looking for books for me but realised quite quickly that there was nothing suitable for people in my age group who are just starting to learn to read. I know I'm not the only teenager who is in this position! I am 14 and not really interested in Biff and Chip… so I decided, if I couldn't find a suitable book, I would write my own! I worked with my tutor to develop a character called Bob The Fish. He is quite complicated: he's jealous, funny, and materialistic and has some very interesting relationships with his friends!
I have written one short book about Bob the Fish and am now on my. I've been talking about him in my videos and people have been really interested in hearing more about the book! Who knows: I could be the next Roald Dahl!
Help Ben chase his dreams by subscribing to his YouTube channel where you can also learn more about him.
Read more of our story's of the month on Disabled Living's blog.