Washpod Helps Bring Young Man Home From Hospital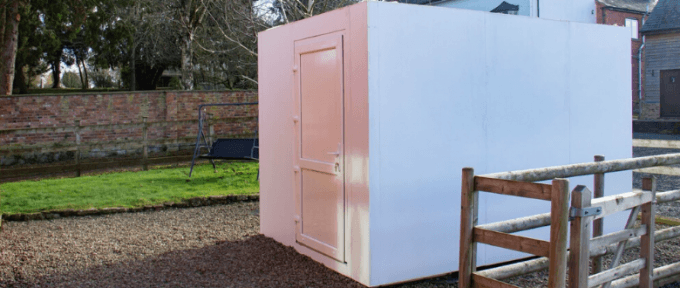 Having spent 4½ months in hospital, 21 year old Luke wanted nothing more than to go home. However, his house had no accessible bathroom facilities. WashPod, the unique mobile wetroom, talk about how they provided a rapid and dignified solution for Luke.
In early 2019, Luke was hit by a car when he was crossing the road and was seriously injured. He currently needs a wheelchair which made coming back to the family home difficult. For his mother, Annette, the options offered to her were totally unsuitable.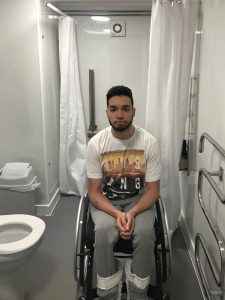 "Luke was trying to come to terms with his situation. The last thing he needed was to come home and have no suitable bathroom facilities" says Annette.
She discovered the WashPod from Dignity Access online (www.dignityaccess.co.uk) and was thrilled.
"I am so pleased with our WashPod as it's given Luke so much independence and dignity at a difficult time which has been crucial. It's been of huge benefit to him and allowed him home without disruptive adaptations " continues Annette.
It was a rapid installation as there was a WashPod that was becoming available and within two weeks from the first phone call, it was connected to Luke's downstairs bedroom with a lobby for total privacy and comfort. In this instance, the unit was craned into position but both internal and external units can also be constructed from a flat-pack form and transported through the house or narrower side gates
About WashPod
If access to the bathroom is now impossible, WashPod is the perfect shorter-term solution saving the option of prolonged hospital care or an early move to an expensive care home. There is nothing like it on the market.
"The WashPod unit provides a temporary, accessible wet room in a self-contained fully accessible plumbed in box. WashPods are either positioned externally in the garden or erected within an existing, reception or dining room that can be made available for the purpose". Lewis Gopsill, General Manager of manufacturer Dignity Access Ltd. 
The applications are numerous from Housing Associations and Local Authorities who may wish to buy them and lease them out to residents as needed, or hospitals during building works, commercial enterprises wishing to provide accessible washrooms and private individuals who simply wish to stay at home.
The WashPod is fully fitted to comply with the highest specification of part M of the building regulations. It has been designed by architects who specialise in the designing for disability and endorsed by occupational therapists and case managers.
Typical facilities include accessible shower facility, basin and WC. External units include underfloor heating. Hoisting for transfer purposes can also be provided where needed.
Both internal (with a mini version too) and external options give a less able person dignity until more suitable arrangements can be made. This reduces disruption and stress to the family home.
External Washpods are usually erected within 2 to 3 days and can include a covered link to an external patio or back door. Internal Washpods can take only a day to install. The units are constructed off site and re-assembled in the home by an expert team.
Both units can be 'plug and play.' A purpose-made pump and water heater unit means that the units are connected into existing cold water supplies only and 2 domestic sockets. Access to a drain point somewhere within the house or garden is used to pump the waste through a flexible 2" pipe.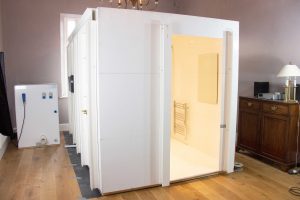 Benefits
Out of hospital faster (thus releasing a hospital bed)
Immediate return to (or ability to remain in) family/familiar surrounding
No permanent alteration to the property
Pod can be removed easily and the property reinstated very quickly
Short period from order to installation
Total independence for user
No reduction in house value
Minimum disruption
Fraction of the cost compared to care home provision.
WashPod is being manufactured and marketed by Dignity Access. They are a sister company to Cowan Architects, specialists in disability adaptations and inclusive living design.
WashPod can be found on Disabled Living's Supplier Directory.