What Have Disabled Living Been up to in December?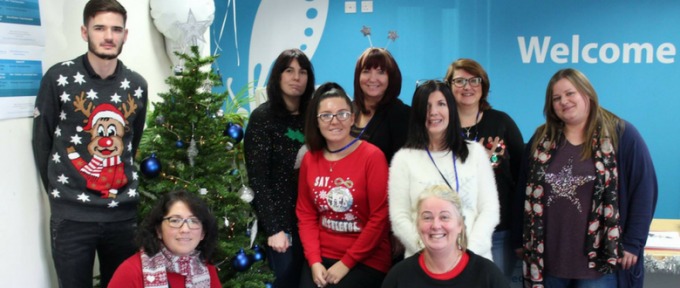 December is a time to be feeling festive and prepare for Christmas. We have got a lot of news for you to catch up on this month. There have been several events at Redbank House and Disabled Living giving us that Christmassy feeling. We put our Christmas trees up at the beginning of the month and our elves have been getting up to a lot of mischief, which you can see for yourself here. 
Film-making workshop for HLF project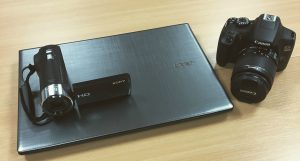 On Monday 4th December members of the Disabled Living team attended a film-making workshop with Sue and Jim, who are working on our heritage project with us. They wanted to give us an insight to the different types of camera angles, interviewing and film-making techniques, along with a short introduction to editing your footage. We all thought this workshop was very useful and we look forward to using these exciting new skills in the new year.
Coleman's Christmas Crackers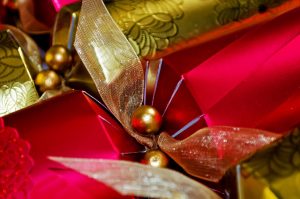 Every Friday in December, Billy Coleman from our Kidz Exhibitions team, gave us his very best 'Coleman's Christmas Crackers' jokes.  Here's a few of the ones we've shared over the last few weeks:
What's the best Christmas present ever?
A broken drum; you can't beat it!
Why are Christmas trees very bad at knitting?
Because they always drop their needles!
What do you call an elf who sings?
A wrapper!
Visiting Isabelle – Our Christmas card winner
Debra and Natasha visited the winner of our Christmas card competition to reward her with a lovely hamper. The competition took place at this year's Kidz to Adultz North event at EventCity in November. This relates back to our heritage when the charity (know then as the Band of Kindness), organised the delivery of Christmas hampers for 300 children every December. Debra and Natasha felt that it was very heart-warming to see the smile on Isabelle and her mum's face.
Christmas Jumper Day (and week)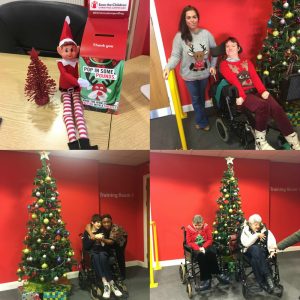 Monday 11th – Friday 15th December was Christmas Jumper Week at Redbank House. A lot of our service users got into the festive spirit and wore their Christmas jumpers as they attended Sensurround. Amanda, Janice, Sharon and Debbie loved taking part. The team at Burrows House also took part in Christmas Jumper Day. They also enjoyed getting into the Christmas spirit And as you can see above, Elfie helped to raise money for Save the Children at our Redbank House reception.
Christmas Extravaganza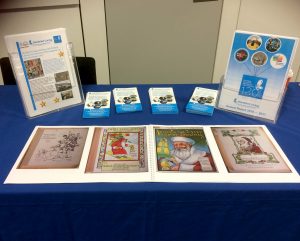 On Saturday 16th December our CEO, Debra Evans, attended the Christmas Extravaganza at Manchester's Central Library. Disabled Living's stand gave people the chance to learn all about us and have the opportunity to see our wonderful Christmas card archive collection. There was a live choir and band along with mince pies to get everyone feeling in the Christmas mood!
Christmas Work's Doo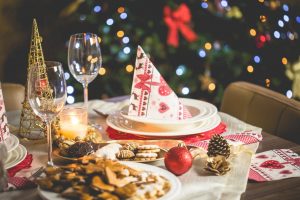 On Saturday 16th December we had our Christmas work's doo in the evening. This year, we went to the Village Hotel in Bury. We enjoyed a Christmas dinner and listened to a live band and DJ playing both old and new songs. It was a fantastic evening and great for the whole team to be together.
Company Christmas Open Day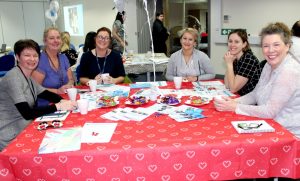 On Wednesday 20th December, members of Disabled Living staff welcomed representatives who have been involved with projects across our departments in 2017. Everyone enjoyed a mince pie, tea/coffee, and were given the opportunity to meet new members of staff, discuss our service developments for 2018 and explore ways in which we could help them to increase their company and equipment profile.
---
Another wonderful year for Disabled Living. We would like to thank you who's supported us this year. As a charity we value all of our customers, service users, trustees, staff, volunteers, and anyone who has worked with us to help make a difference. Share your memories with us on Twitter.
We would like to wish you a Merry Christmas and a happy New Year.