So What Was Chris Doing at Coronation Street?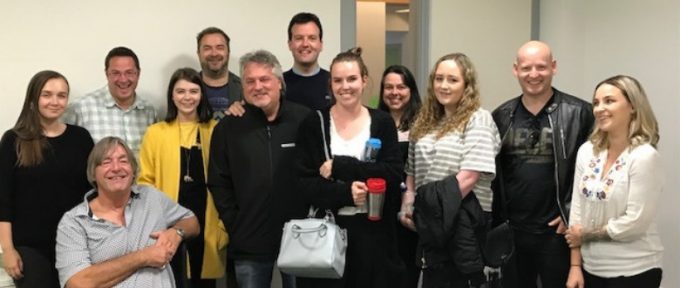 This post has been written by Chris Cammis, Disabled Living's Disability Awareness Trainer. He talks about why he had a lovely day out at MediaCityUK.
I had been invited by Simon Lord of Continuum Entertainment to deliver Disability Awareness Training to a group of their Tour Guides. Simon is the General Manager of their Manchester office with responsibility for recruiting, organising and training staff to deliver the official Coronation Street Tours. I hadn't realised beforehand what a big deal this was. Continuum organise official tours around many of the major UK tourist venues as well as Coronation Street – The York Chocolate Tour, Emmerdale Village Tour, Spinnaker Tower Portsmouth and Oxford Castle and Prison to name a few. 
The tours run every Saturday and Sunday (filming takes place all through the week!), setting off every 15 minutes, with up to 50 people per group. That adds up to thousands of people every weekend which inevitably means the tour guides will encounter many people with all sorts of disabilities on a daily basis.
Unfortunately, we weren't located anywhere near Coronation Street's set so I saw no famous faces running through their lines but we did start the session with a private showing of a new publicity DVD that Continuum had just completed, which was well received by all.
I then organised a session covering 'Appropriate Language and Appropriate Behaviour' to use when dealing with disabled visitors, including all the standard issues around wheelchair etiquette, accommodating assistance dogs, working alongside BSL (British Sign Language) interpreters and so on. Delegates were given the opportunity to ask questions relating to their experiences of tour participants who might be on the autistic spectrum, exhibit over-familiarity with the guide, and show no apparent sign of interaction and so on.
There was a fascinating mix of real-life experiences to add to my own stock of issues and anecdotes. This all led to an absorbing session enjoyed by all. It's always exciting to deal with a group who can cope with my material and are then prompted to ask questions of their own – sometimes unexpected.
Hopefully this event will become a regular occurrence as new guides are recruited and will also lead to similar work around the UK at other Continuum tourist venues.
It is so important for any business or location to have a welcoming environment for those with disabilities or limited mobility. More information on some great initiatives to make your business more accessible. including disability awareness training, can be found here: https://www.cibeslift.com/gb/news/great-initiatives-to-make-your-business-more-accessible/