Eliminating Bacteria and Viruses with Sterilight Robots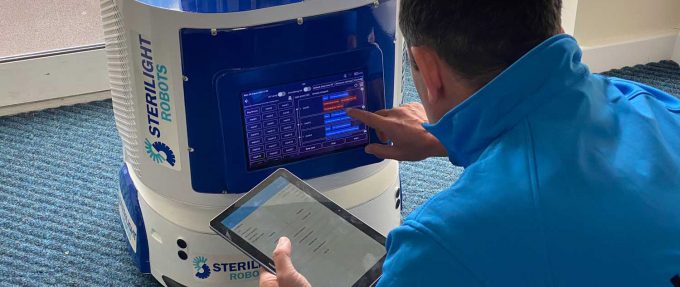 This is a guest blog by Grant from Sterilight Robots.
Sterilight Robots was proud to be able to assist Redbank House and Disabled Living with a specialist disinfection using the Model X autonomous robot.
It uses high power UV-C bulbs by Phillips and an internal HEPA filter to eliminate bacteria and viruses within the air and on all surfaces. Redbank House wanted to ensure that every area had a deep disinfection to maintain the highest levels of hygiene for their visitors.
Coronaviruses Reduced 99.9999% in 25 Seconds
At Redbank House, particular attention was allocated to the sensory rooms to ensure sufficient UV-C exposure was given to all high touch and high traffic areas. The University of Boston in Australia conducted a study on the effectiveness of UV-C exposure against Coronaviruses and they identified that with 25 seconds of exposure, Covid-19 could be reduced by 99.9999%. Sterilight Robots planned the route within Redbank to allow much longer exposure times across all areas and used Dosimeter Labels as a means of measuring the effectiveness of the disinfection. The labels are proven to accurately measure the total UV-C exposure so that a sufficient dose of ultraviolet light could be given to all areas.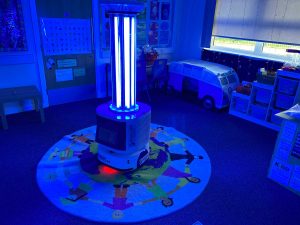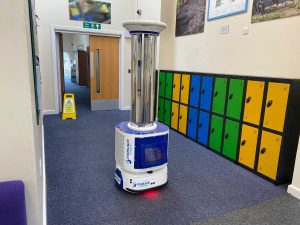 Sterilight Robots are able to assist businesses and premises with a fully managed disinfection service. We will visit your location, perform an exposure assessment and then program the Model X to autonomously clean the entire location for a fixed, low cost. For locations that require a daily disinfection, we are able to offer a range of Autonomous robots, UV-C Static Towers and other effective UV-C solutions that can be purchased and used by your own team. Full training (face-to-face or virtual) and extended warranties are given for your peace of mind.
For more information please visit: sterilightrobots.co.uk