Access Audit Training at the Foreign Office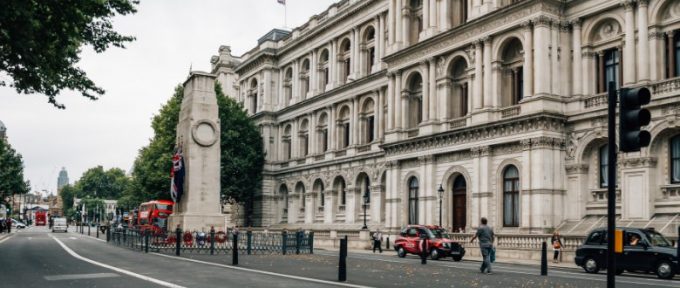 This post has been written by Chris Cammis, Disabled Living's Disability Trainer & Advisor. He shares his experience of delivering Access Audit training at the Foreign Office.
This is Chris signing in to tell you about my latest exploit – the Foreign Office, no less!
We'd been contacted months ago to create a course on how to conduct an Access Audit. Not for me to carry one out, but to teach others. Not an easy task when you don't know the skills of the delegates and you have to cover all major areas of disability.
It turns out there's a "Services" team in the Foreign Office who may be called to visit and give advice to any of our embassies around the globe. "The Foreign Minister of Outer… is a wheelchair user and can't get into the embassy", "The Prime Minister of Inner… is huge and he cannot get into our toilets or find a comfortable chair to sit in", "The wife of the Minister has very little sight and keeps tripping over the furniture" and so on.
So, my delegates have a very interesting job but don't yet have sufficient skills to carry it out under all circumstances. Still, I'm always up for a challenge so I accepted.
In the event the travel was more of an issue than the course. I've never encountered so many random accidents, detours and road works in one journey for years. Still, I managed to travel down the day before and eventually reach my hotel in Southwark – a lovely area I know quite well – and parked up. Parking can be hard to find in Central London so guaranteed, on-site parking was a huge plus.
Unfortunately though, no on-site restaurant, so off I wandered down the High Street, which was crammed with restaurants serving every cuisine known to humankind. I eventually settled on Italian at Vapiano on Southwark Street. Brilliant staff, lovely food, and lots of atmosphere – I was so well looked after that at one point I left my table to order some more food and a fellow customer raced after me with my gloves because he thought I was leaving without them!
Arriving at the Foreign Office to begin the Access Audit training
Next morning my trusty Sat Nav got me to my destination. It actually told me "You have reached your destination" when I was exactly in the middle of a six lane major road, but off to the right I could see an archway, some huge bollards and several very serious looking security guards so I guessed I'd arrived.
In I drove. Security man puts his hand up. "Stop Sir. Back, back, back!" I reversed quickly until he was satisfied I was at a safe distance then he proceeded to do a mirror check of the underside of the car. "I'm going to open every door Sir" which he did. "Who are you?" "Who are you seeing?" "Proceed slowly, park over there, and enter over there. Avoid the diplomatic spaces"
Eventually I arrive at an inner entrance, body search, bag search, "Look into the camera!" I find myself wearing a badge with my new pic on it! Into reception, more questions and finally I'm met by Sam and taken through to the training venue.
Lovely people, a great course, superb surroundings, well looked after – enjoyed every minute.
I wasn't left on my own for a second. At one point I said "You don't need to follow me to the toilet thanks – I know where it is." "Oh, but I do sir, officially I can't leave you alone until you eventually leave the premises."
At the end of a very successful day Sam offered me a quick tour. Painted, vaulted ceilings, ornate staircases, cobbled courtyards, impressive statues and eventually some serious looking metal doors. Sam had all the passes and opened the last door to show me "Number 10"! We were actually on Downing Street exactly opposite the famous black door!
Completely deserted, not a soul in sight – everyone in Parliament as the Prime Minister suffered yet another Brexit defeat, but what an unexpected thrill?!
I love this job!
More information on our Access Audit Training service
Does your company or organisation meet the needs of everyone who is using your building? Disabled Living provide Access Audit Training. To find out more please visit our website: www.disabledliving.co.uk/equipment/audit-access/ or contact us on 0161 214 4590/email: info@disabledliving.co.uk