The Vision System and the Helping Handle Gadgets by Remap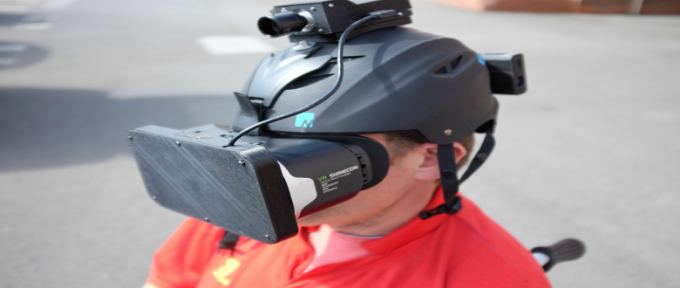 Ian is an avid football supporter but is very visually impaired due to mitochondrial dysfunction. This means his sight is only good for short range and large, high-contrast, images. Although he visits Anfield to watch Liverpool play, he is unable to see the play. He simply listens to the radio commentary and soaks up the atmosphere from the touch line.
He has always wanted to watch the action but he simply cannot see further than a few inches!
Rupert Powell, a volunteer with Remap York, was given the challenge. His solution uses a virtual reality headset, a video display screen, a camera with a powerful motorised zoom lens and some clever computer processing to bring the action up close.
Here's how it works. The camera is mounted on the headset itself so wherever Ian looks he gets a high-contrast image on the screen right in front of his eyes. He can zoom in if required and the images can be further enhanced by the computer. Ian uses a wireless Play-station game controller to control zoom and focus, as well as contrast/still-frame/negative/Edge detection more.
So now Ian can watch the football match, rather than simply listen to a radio commentary, and absorb the atmosphere. He said he finds it easy to use and enables him to see the play over 2/3rds of the field. Something he has NEVER been able to do before!
Ian also uses the device for everyday activities such as shopping. He can locate shops and no longer has to ask other shoppers where certain products are on the shelf – he can now easily scan the shelf from his wheelchair and see the products he is looking for.
The helping handle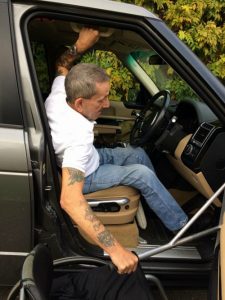 Bob Crump is paraplegic following a car accident, but this hasn't put him off his hobby of off-road driving. He has a hand-controlled Range Rover but was experiencing difficulty getting from his wheelchair up into the car's driving seat unassisted, due to declining upper body strength.
Remap volunteer David Tappin came up with a solution for him. This is a simple, lightweight frame which clips onto the vehicle's door hinges to provide a strong but stable handle. Bob can fit it himself, then lean on it to lift himself into the driving seat. There was nothing strong enough on the market to meet this need.
Bob took the time to thank Remap afterwards:
The handle David Tappin made allowed me to not only continue my off road driving but also enabled me to get out much more for general day to day activities, which I had started to avoid, therefore improving my quality of life.

I can't put into words how grateful I am to Remap and especially Mr Tappin who generously gave so much of his time and expertise.
Other recent projects include the adaptation of a rollator for an amputee, some fold down steps for a child with dwarfism and a special wheeled frame that fixes to an ordinary chair which allows it to be used as a wheelchair on board a narrowboat.
A more unusual request came from the Parochial Church Council of St. Peter's Church, Wootton Wawen, which is the oldest church in Warwickshire. Here parishioners wanted a handrail as the heavy door to the church opens onto steep steps. But there was a big catch: no part of the church or doors could be modified in any way, and it was forbidden to drill holes into anything! Whatever was supplied had to be quick and easy to install and remove, and, above all, had to be really stable and secure, with no possibility of coming loose and causing an accident.
Once again Remap supplied a solution in the form of a removable handrail which simply clips tightly onto the door when required but can be removed afterwards without having marked the door.
What can Remap do for you?
Do you need a piece of equipment that you just can't find on the market? Or perhaps you have an item that isn't quite suitable and needs to be modified just for you? Everything supplied by Remap is free of charge and designed individually for each person. Give them a try!
Remap has a network of over 70 groups across England and Wales, so there is probably help near you. For more information, visit the Remap website at or phone the national office on 01732 760209.